CJ7
(2008)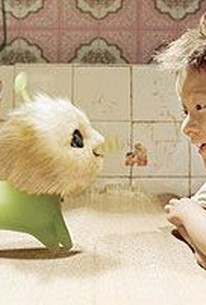 Movie Info
Shaolin Soccer and Kung Fu Hustle director Stephen Chow returns to the helm for this sci-fi comedy about a struggling single father whose quest to find the perfect toy yields out-of-this-world results. Ti (Chow) is a poor construction worker who breaks his back to ensure that his young son Dicky (Xu Jiao) can stay enrolled in an exclusive private school. But while Ti does everything possible to give his son the opportunities that he never had, Dicky still feels like a classroom reject due to his tattered clothes and lack of the latest toys. Dicky's classmates all play with the coolest and most expensive gadgets that money can buy, so how is a kid who gets his toys from the local junkyard ever supposed to fit in? One day, while scrounging through the trash heap in search of a new toy, Ti discovers a mysterious orb and brings it straight back to Dicky. Though at first the "CJ7" appears to be little more than an unidentifiable oddity, it proves to be much, much more once the young boy starts to play with it. This isn't your average action figure, but a living "pet" with extraordinary powers. Realizing that his new toy may be just the thing to help him fit in with his demanding classmates, Dicky brings the CJ7 to school with him in order to show it off and have some fun. But the CJ7 has its own ideas about how to have fun, and it isn't long before the situation at school gets hopelessly out of hand. ~ Jason Buchanan, Rovi
News & Interviews for CJ7
Audience Reviews for CJ7
Where to begin? This is my first time typing on an iPad so I'm rushing. Nobody will ever read this. The alien creature looks like a midget's dildo with the head of my toilet brush. Creature movies always have characters that are dominated by the creature who is cute and this is because of children's weak memories. When the nerd throws the thing in the blender in "gremlins" the camera probably cuts right to gizmos face and the children watching instantly forget what they saw and think about cuteness. The people hired to Act out the dubbed voices had a ball I'm sure. When that fat chick spoke and Abigail breslin's voice came out I about lost it. Stephen chow is all like "I makes special film. Child good heart and I works hard and honest with integrities and cj7 shit in son's palm but look I no steal because honest." except he totally is stealing money and intelligence and free time. But look. CREATURE CUTES! The love of my life loves this movie which means if there is a fan site for this then I am fucking posting on it and leaving it on my computer and then pretending to be embarassed when she finds it but really I know she thinks I cutes like the cj7 and she will so glad it's not porn.
Coxxie Mild Sauce
Super Reviewer
Stephen Chow's "CJ7" is like a Chinese version of a Robert Rodriguez family film. It contains many of the elements of his family movies and Chow seems to make use of them. Cartoony effects, kids with bully issues, silly parents, yup, Stephen Chow used all of these. The film tells the story of an extremely poor single father named Ti and his son, Dicky. Trust me when I say "extremely poor". Ti can't seem to afford anything for his son even though he is employed. Dig this: they eat rotten food! *Barfs* Dicky begs his father to get the hottest new toy for him, CJ-6, which is a toy robot. Yup, he dosen't get it for him and a very awkward moment ensues. Something you wouldn't find in an American family film. However, Ti witnesses an alien landing. An alien who would make a perfect friend for his son. A little furry, cute little alien who he calls, wait for it, CJ-7. And so, silliness, and often tragedy, occurs when the alien enters their lives. The film did not recieve the English dubbing that Chow's other films got. So we're stuck with subtitles. From the subtitles, it was a pretty funny film. It had very weird, fish-out-of-water moments and some touching dialogue. "CJ-7" also had a good message for youngsters. It was a film that I enjoyed but it wasn't the best. However, I would've loved the film even more if it didn't take away my apetite. Despite the fact that the boy and his father eat rotten food, there is a scene involving human waste. Unpleasant. So, if you like silly and sweet family films, seek out Stephen Chow's "CJ-7". "I'm gonna stab you in the heart!"
Bentley Lyles
Super Reviewer
½
Chow: I have a toy that's way better than CJ1. Do you wanna see it? A departure from the more martial arts centered subject matter of the Chow's previous two movies, this is a family movie, harking back to films like E.T. Here, a little boy, Dicky played by Jiao Xu, lives with his father, Stephen Chow. They are very poor, with his father literally picking supplies out of the trash to help them get by. At school, Dicky is constantly bullied by pretty much everyone, including one of his teachers. Soon the kids begin to get a new popular toy, that Dicky can of course never get. Meanwhile, with recent UFO sightings on the rise, Dicky's father soon finds a mysterious object and gives it to his son. It turns out that this object is some kind of alien toy that comes to life and fuels Dicky's imagination. The toy appears to have certain powers as well that eventually come into play. Let it be said that this will be a strange and weird movie for some. The narrative is a bit bizarre but it works in combining the sense of fun and cuteness in a good kids movie with Stephen Chow's style of humor. It also has a number of emotional scenes and a good way of handling the tone throughout. Fun soundtrack as well. The movie also has to rely on special effects to portray the alien toy and while the look doesn't have you believing its a real object, the way it is designed to interact with the characters does get the right response. A funny, different type of family film. Chow: I do have a problem with my body. Ms. Yuen: What kind of problem? Chow: I'm far to handsome. [laughs] I mean it, I am.
Aaron Neuwirth
Super Reviewer
CJ7 Quotes
There are no approved quotes yet for this movie.