Civic Duty
(2006)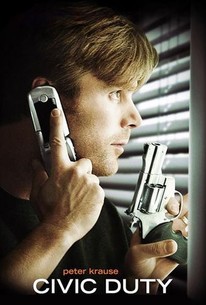 Movie Info
Where does legitimate concern end and paranoia begin? A man finds himself walking that fine line in this tense independent drama. Terry Allen (Peter Krause) is an accountant who lives a seemingly ordinary life until he loses his job. Unable to buy the new house he was hoping to get for his fiancée, Marla (Kari Matchett), Terry spends most of time in his apartment, looking for job leads, sending out resumés, and feeling increasingly powerless. As Terry watches more and more stories about the war on terror on cable news channels, he begins developing an intense suspicion of his new neighbor Gabe Hassan (Khaled Abol Naga), an Arab exchange student. Terry notices Gabe keeps late hours, takes out his trash in the middle of the night, and has a lot of visitors of Middle Eastern descent dropping by his flat, and slowly Terry becomes convinced Gabe is involved in terrorist activities. Terry visits Tom Hillary (Richard Schiff), an FBI agent, and tells him about Gabe and his habits; Tom doesn't pay much attention to what Terry has to say, and convinced danger lurks, he decides to take the law into his own hands. Civic Duty received its world premiere at the 2006 Tribeca Film Festival. ~ Mark Deming, Rovi
News & Interviews for Civic Duty
Critic Reviews for Civic Duty
Audience Reviews for Civic Duty
Pretty effective thriller, Civic Duty starring Peter Krause is a low budget picture that manages to be entertaining from start to finish despite its limitations. I was pleasantly surprised by how much I enjoyed the film. Released in the years following 9/11, the film emphasizes on the paranoia at the time when America were in a state of vulnerability. The film is engaging a truly riveting from start to finish. Of course the film could have been improved upon, but for what it is, it's a well crafted film that manages to be far better than what you might think. Krause is great in the lead role, and the film overall relies on a good idea, but at the same time, we've seen better films dealing with similar subjects. Despite its limitations, Civic Duty is one of those movies that are quite engaging considering its budget and simple premise. There are moments in the film where it gets very intense, and you are sucked into its plot. I'll admit that a few times it was silly, but overall, I enjoyed the film, and thought it was a well directed and thrilling film that despite a few weak parts is a picture worth seeing if you enjoy the genre. Krause is a good actor, and his work on Six Feet Under is proof of that, and like I previously said, he is good in the film, and manages to make the film better than it is. For a low budget thriller, Civic Duty is one of the better ones, but it never does reach its full potential, and it somehow leaves you wanting a bit more. Worth seeing if you have nothing else better to do.
This movie taps into the post 9/11 paranoia and Peter Krause is believable as the recently laid off accountant, Terry Allen who now is having trouble finding work. He becomes suspicious of his middle-eastern looking neighbor Khaled Abol Naga who has just moved in and seemingly fits the profile of a terrorist because of his friendship with other Arab looking guys who show up at his place with all kinds of mysterious packages and who has the strange habit of dumping his garbage at odd times at night. Khaled also has ominous looking chemical equipment in his kitchen along with ATM deposit envelopes for what appears to be a money laundering set up for terrorist activities. The ending keeps you guessing as it was never really clear whether or not Krause was paranoid or justified in suspecting his neighbor. My Take: I just think this movie will make more people paranoid. It's is not hard to believe that this kind of bigotry still exist despite our policy of innocent until proven guilty where one should not discriminate based on ethnic culture, religion or color of skin; even if it turns out in the end that you were right all along. It's enough to depress you but will definitely leave you wondering even when it is all over.
This movie hit the screen shortly after 9-11, it was done fast to capitalize on the post 9-11 movie rush. Its not a bad movie but its surly low budget. Our Main Crazy Star is Peter Krause who plays Terry Allen, a loser of a man, lost job, losing his wife, he sits at home watching the news about the 9-11 terrorist and this creates fear in his mind. Next thing you know Gabe Hassan played by Khaled Abol Naga moves into the apartment complex. This is an accurate portrayals of modern-day paranoia in the most of the world, but here in the United States we have once again let our guard down. Gabe is a Middle Eastern Man, and Terry falls into the negative thinking that Gabe is a terrorist. He does everything to the man to get something to point that Gabe is fixing to attack the US. The FBI is involved, Terry just flips out and in the end is put in to a mental Facility and then one day watching the news Terry sees on the news all that he was telling the FBI has unfolded. Its worth 3 stars
Bruce Bruce
Super Reviewer
Civic Duty Quotes
There are no approved quotes yet for this movie.