Circumstance
(2011)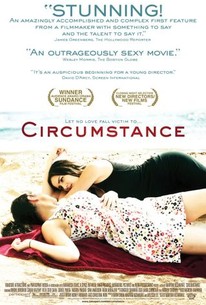 Movie Info
Atafeh and her brother, Mehran, have grown up privileged, in a home filled with music, art, and intellectual curiosity. While Atafeh dreams of fame and adventure, and she and her best friend, Shireen, explore Tehran's underground scene with youthful exuberance and determination to be themselves, her brother returns home from drug rehab, renounces his former decadent life, and replaces his once obsessive practice of classical music with more destructive pursuits. -- (C) Roadside Attractions
News & Interviews for Circumstance
Critic Reviews for Circumstance
Audience Reviews for Circumstance
Something different... a movie which is supposedly Iranian in which we follow a life of a pretty girl Shireen (Sarah Kazemy) and her privileged classmate Atafeh, (Nikohl Boosheri). Their friendship turns erotic as they navigate a circuit of illicit parties offering drink, drugs, and dancing, loud Western music and banned films. The situation becomes even more complicated when Atafeh's troubled older brother, Mehran (Reza Sixo Safai), also falls in love with Shireen... First I'd love to clarify something: the director Maryam Keshavarz is actually American, Sarah Kazemy lives in France, Boosheri in Canada, Safai in California... claiming that the movie is Iranian (without Iranians) is a little bit too much... they all have Iranian background but the movie is definitely not IRANIAN even if events were supposedly happening in Iran. I actually found it extremely anti-Iranian (government). It was definitely made for exiles created by the Iranian revolution, not for people who live their everyday life in Iran. Made for less than $1 million with an international cast of Persian-speaking exiles, Circumstance is in many ways an achievement... but its mix of documentary detail and melodramatic plotting mixed with very yo-yo type paced scenes didn't do much for me. It seems that a screenplay was made controversial just for the sake of being controversial not for carrying some message for certain population (and to be honest with you guys, I am sick of the "gay rights" movies - everyone has a right to express what they think but going overboard with it usually reverses the effect of the actions). The screenplay was like a journal with notes on side: I did this... I pissed my father... My brother is a zealot... Why is my father against drugs?... Iranian government sucks... United Arab Emirates is the solution (hahahahahaha)... The funny things is that every actor was afraid that they won't be allowed back in Iran to visit the relatives... did you asked yourselves WHY? Probably for the same reason other countries (like Australia or UK or USA) do not allow foreign citizens to enter their countries - THEY BROKE THE LAW OF THAT COUNTRY WILLINGLY AND THEY ARE ON THE BLACK LIST. I wish I could watch this movie with less "political influence"... It wasn't a bad movie, but nothing special, either! Iranians have a great cinematography; it's petty that we don't have a chance to see the REAL DEAL!
½
Despite a slate of quality movies by homegrown filmmakers, Iran is not exactly the most film friendly country conceivable. Governed by a strict set of Islamic moral laws, filmmaking has often been conflated with Western cultural corruption. In 2010, Jafar Panahi, an internationally renowned Iranian filmmaker, was sentenced to six years in prison for nebulous charges of conspiring against ruling forces. He was also banned from making any movies, or even scriptwriting, for 20 years. Just imagine what the country's moral authority would say about Circumstance, an independent drama about teen lesbians. The controversial movie was filmed in Lebanon and populated with Iranian-born actors living in North America. The movie is, no surprise, banned in Iran. Atafeh (Nikohl Boosheri) and Shireen (Sarah Kazemy) are two teenage girls living in modern-day Tehran. They are both free-spirited and yearning for the freedoms not afforded under strict Islamic law. They sneak away from their families to go to parties where they drink, smoke, listen to forbidden music, and dance with boys. The two girls' lives become even more complicated when they start having new feelings for one another. Shireen's parents are dead and she lives with her traditional uncle, who is looking to marry the girl off. A suitable suitor is Mehran (Reza Sixo Safai), Atafeh's older brother. Mehran is back after an, unsuccessful, stint in drug rehab and looks to stern religion to guide him. Shireen and Atafeh must keep their love a secret or risk losing everything they hold dear. Circumstance seems, under the circumstances of geopolitical intolerance, to be casually tagged as "that Iranian lesbian movie," much like Brokeback Mountain was initially dismissed as that "gay cowboy movie." In a sense the movie doesn't rise beyond the sum of its parts, but it does portray an intriguing slice of life hidden from mainstream society. You pretty much expect that things are not going to work out for these star-crossed Iranian girls, but that doesn't stop you from hoping that they'll beat the long impossible odds (the girls talk about running off to Dubai where "anything is possible"). The character work can be lacking, sadly. The girls will drift from scene to scene, perhaps metaphorically indicating the limited role of women in this strict environment. Then again it could just be a screenwriting deficiency. There's enough interest in a secret lesbian romance behind the veil, but the story would have resonated greater had the characters been given greater attention. They seem real; there's little in the film that seems inauthentic. The girls and their lives of limited options feels pressingly real, I just wanted to buy into their romance more. The friendship is there but the establishment of desire is taken for granted. A couple of sequences with roaming hands do not substitute for laying down character work. By the end of the movie, one of them blithely accepts her destiny as an unhappy subjugated bride, while the other escapes for a life abroad with possibility. The emotional impact of the ending is diminished. We feel sorry for them, but do we feel the ache of tragedy? I could not, and the unreasonably abrupt ending left zero in the way of resolution. If you're looking to quicken a few heartbeats, Circumstance should do the trick. Naturally a story about two young women falling for each other has a spark of eroticism. Writer/director Maryam Keshavarz offers a welcomed feminine perspective on budding sensuality. Her camera lingers on close-ups of hands, fingers dancing across goose bumped flesh. The film manages to be erotic without dipping into exploitation; there is only the briefest of partial nudity and the girl-on-girl activity is tastefully portrayed. Keshavarz could have pushed further so that the audience would feel the sense of longing that drives Shireen and Atafeh. The unrequited lesbian romance is practically a genre unto itself in independent cinema. It's a natural magnet for drama: suppressed feelings, oppressive regimes forbidding the forbidden love, and the spark of sensuality at the bloom of youth. I would argue that 1999's Aimee and Jaguar is the best unrequited romance of modern cinema, gay or straight. Like Circumstance, that film dealt with a surprising lesbian romance during a time when homosexuals were persecuted (Germany in World War II). It seems given the terrain that you'd expect Circumstance to walk the line between unrequited lesbian romance and coming of age tale. While not as fully convincing about the sickness that first love can develop, like 2004's teen lesbian romance My Summer of Love which gave the world Emily Blunt, Circumstance does present an interesting story due to the particular hostilities the girls must evade. Iran is a rather hostile place for women of all stripe, let alone ones with homosexual tendencies. This is, after all, the same country whose leader publically proclaimed that Iran did not have one gay citizen. The pressures to conform are omnipresent. Atafeh and Shireen are detained simply for going out late and wearing makeup in public. I wish the film had gone into greater specifics about the dangers the girls faced, rather then operate on the assumption that their actions would easily fall in the "no-no" category. I don't consider myself a sadist, but more scenes like the police detention would dial up the peril as well as better articulate the impossibility of their romance. While not living to its potential as an unrequited romance, Circumstance succeeds in other ways, namely as a showcase of the cultural struggles of modern-day Iran. We get an interesting glimpse into the underground youth culture, showcasing a world that fights for existence where young people will risk their lives for a taste of Western or modern culture. The particulars of this underground scene are not dealt with in any meaningful way; the characters just seem to duck into hidden parties and peel off their street clothes. One of the characters in the film states that everything is political, and just by showing the flourishing underground youth culture Keshavarz has made a political statement. I would have enjoyed more examination on this cultural schism. We see friends of Atafeh discussing the finer qualities of Milk in a hidden video store, discussing the relatability of the human rights message. They even plan on dubbing it over into Farsi and attaching it to a bootleg of the Sex and the City movie for maximum exposure. When this youthful rebellion gets uncovered late in the film, Iranian officials blame a widespread conspiracy involving Israel and the United States to weaken Iran. Circumstance oddly steers clear from showing many consequences of being caught. As a result, the hidden youth culture feels too protected from the country's powerful Morality Police. The Mehran character is the movie's biggest stumbling block. He's supposed to be an antagonist in some respects, though his long creepy lustful stares don't seem to amount to much. His transition from failed musical student to religion convert is poorly handled. He's seen smoking hardcore drugs but then it appears that Mehran is never tempted again with drugs. I assume that, as presented, Mehran has replaced drugs with religion (Karl Marx would nod to himself). The film's conflict between modernism and theocratic rule is minimally addressed. The fact that the father, an affluent, college-educated middleclass secular man who was a rebel in his youth, is drawn back to religion by the film's end is hard to swallow without more convincing evidence or commentary. The entire storyline where Mehran secretly spies on his family with hidden videos seems completely superfluous. It's just another way to make the guy look creepy, which is just piling on. The hidden surveillance, the idea that women are always being scrutinized, could make for an interesting addition, but not as presented. The two female leads, Boosheri and Kazemy, are both lovely ladies, giving tender, emotional, affecting performances. I just wish that Circumstance were less shallow when it came to its characters and specific plotlines. This unrequited romance is missing some necessary ingredients to work as a movie. The character work and plot can be frustratingly shallow at times, and the obvious peril of being young, female, and gay in Iran is too often left assumed. Circumstance is an interesting cultural document of Iran, but as the "Iranian lesbian movie" it fails to stretch beyond this simplistic branding. Nate's Grade: B-
Nate Zoebl
Super Reviewer
½
Despite their being from very different backgrounds, Shireen(Sarah Kazemy) and Atafeh(Nikohl Boosheri) are the most inseparable of friends, going to parties together while Atafeh vouches for her friend when she comes under suspicion at school. Shireen lives with her uncle who is trying to line up a suitor for her. Atafeh comes from a more prosperous family that welcomes Merhan(Rexa Sixo Safai), the prodigal son, back into the fold, albeit on a very short lease and an allowance with expectations of receipts which should not be a problem when he goes to mosque. He also has no choice but to go with the family when they go to the seashore which also includes Shireen who proposes to her best friend that they make a break for it to Dubai. "Circumstance" is a sensitive and thoughtful movie, set in modern day Iran(filmed in Beirut), where the personal can no longer be separated from the political. With great care, the movie accuses the country's government of hypocrisy and corruption, less fanaticism, although that is also there if one looks hard enough. Even in a country of so little privacy, as Merhan has to pee in a cup in front of his father, an underground counterculture, influenced by the West, does manage to flourish. As careful as they think may be, the problem for the friends is that somebody may indeed be watching, as shown by the occasional use of security footage, making this a true Orwellian nightmare. That brings up the question of who is really immoral when there is so much voyeurism in play?
Circumstance Quotes
There are no approved quotes yet for this movie.