Circle Of Pain
(2010)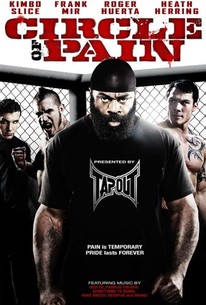 AUDIENCE SCORE
Critic Consensus: No consensus yet.
Movie Info
A retired MMA fighter is lured back into the ring by a shady promoter seeking a big ticket brawl. Dalton Hunt (Tony Schiena) was the greatest fighter in the world when his career came to a sudden and tragic end. Subsequently abandoned by his family, Dalton retreats from the spotlight until a sleazy promoter presents him with an offer he can't refuse. The reigning champion has yet to encounter an opponent he can't pummel into submission, and Dalton may be just the man to teach him a little humility. But in order to get back into fighting shape, Dalton will endure a grueling training regimen under a mysterious coach who won't accept anything less than 100% dedication. ~ Jason Buchanan, Rovi
Critic Reviews for Circle Of Pain
There are no critic reviews yet for Circle Of Pain. Keep checking Rotten Tomatoes for updates!
Audience Reviews for Circle Of Pain
some UFC movie but there?s a guy (other than Dean Cain.. oh what has happened to Superman!?? ;-( )that I think I?ve seen in a movie before & one of the names sound familiar but no idea WHY being I don?t watch Ultimate Fighting Championship. Well the dude w/ the mohawk in it is the one that reminds me of someone or maybe a few spliced together? real name Heath Herring but most of the guys in this I think ARE actually from the UFC in this Heath Played Colin 'the brick' Wahle (wall) he?s been in a few other things but I never saw them. & has a few other movies (3 in pre-production, 1 in Post-production) Well at least I stayed up for it, but its basically like Never Back Down only with bigger more muscular guys not to mention Scary looking D
Kym (c my community profile) Ragarsson
Super Reviewer
Ive only seen a couple MMA type movies & each & every 1 has been an over the top piece of crap & this 1 was no different.Watching Circle Of Pain was like watching a cheap MMA version of No Holds Barred.I watched about 30 minutes & couldnt take anymore so I fast forwarded to the main event out of curiosity.Im no MMA expert but I think if a fighter deliberately head butts another then the fighter is automatically DQed or if 2 fighters go through the cage door then they would be brung in & the fight continues.If they continue to fight outside, double DQ.I know its just a movie but hey.As usual, Bai Ling was her usual annoying self & I couldve done without seeing her butt.Maybe someday somebody will come out with a decent watchable MMA flick
Brody Manson
Super Reviewer
I got to say nothing beats watching a bunch of well oiled, well muscled guys beating the crap out of each other. This one is no different with our hero being a retired MMA fighter (Tony Schiena) who has been out of the game for over five years. However, when an unscrupulous promoter finds an oversight in his contract he is forced to make one last fight in order to fulfill his contractual obligations. He decides to take on the current undefeated champ under the coaching tutelage of Brett Favre, but he has to do this in two months time. Dean Cain is our hero's wheelchair bound roommate who got placed there after a sparring match went wrong. Add a little bit of spice in the form of a hot Asian chick (Bai Ling Crank 2 High Voltage) and put in the obligatory sex scene with copious nudity and you've got "Circle ofPain". Predictable but the fighting scenes were okay and you have a splash of everything starting with the reluctant hero, the deranged bad guy, the eccentric trainer, and the wheelchair-bound sidekick and there is a brief spar with "Kimbo" The Slice as well.
Circle Of Pain Quotes
There are no approved quotes yet for this movie.