A Cinderella Story
(2004)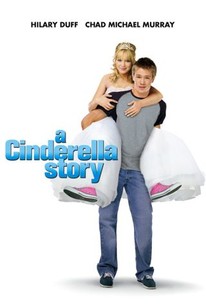 A Cinderella Story Photos
Movie Info
Cute but geeky high-school student Samantha Martin (Hilary Duff) is knocked off her feet by her father's untimely death, which leaves his diner and Samantha's well-being in the care of Fiona (Jennifer Coolidge), Sam's thoroughly wicked stepmother. Not one to take on such menial tasks as dishwashing and mopping floors, Fiona exploits Sam's dependence as a method of hoisting any dirty work off her own shoulders. School is hardly a break for Samantha, particularly when Shelby (Julie Gonzalo) is around; spoiled, wealthy, and popular, Shelby treats Samantha nearly as badly as Fiona does. Samantha's life is irrevocably changed, however, by two events: a makeover of epic proportions and a sudden electronic correspondence with a mysterious young man. Due to a misplaced cell phone and a series of fateful coincidences, Samantha and her Prince Charming develop a romance through text messages and e-mails, and ultimately promise to meet face-to-face at the biggest school dance of the year. Of course, getting there doesn't go smoothly, and Samantha may miss her chance to meet her dream date -- none other than Austin (Chad Michael Murray), the most popular boy in school. ~ Tracie Cooper, Rovi
News & Interviews for A Cinderella Story
Critic Reviews for A Cinderella Story
Audience Reviews for A Cinderella Story
½
I had this marked as a 3 1/2 star movie. Downgraded to 2 1/2 after a re watch 2015. It's a young teens movie, but I have enjoyed a lot of those over the years. Hillary Duff always seemed sweet and she made some good movies over this decade. I have to say, I have lost a bit of respect for Hillary personally since she started trying to out wild everyone else out there and trying too hard to shock. Maybe that's coloured how I see this, and I'm less likely now to excuse a less than perfect storyline. Or I am just too old for it, one or the other. All pretty predictable. Jennifer Coolidge her too, but seen all that before too.
Nicki Marie
Super Reviewer
Kinda cute or whatever. I never liked Hilary Duff in her prime (mostly due to some inexplicable aversion to her face), but she actually seemed to be a pretty grounded teen actress. Nice to see "Cougar Town"'s moon-faced Dan Byrd as the sacrificial guy best friend.
Alice Shen
Super Reviewer
A Cinderella Story Quotes
There are no approved quotes yet for this movie.