Cidade dos Homens (City of Men)
(2007)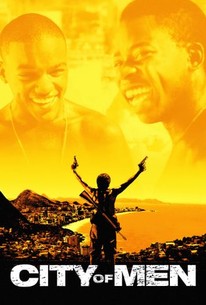 TOMATOMETER
AUDIENCE SCORE
Critic Consensus: Brutal and unflinching, City of Men is both a harrowing look at Brazil's favela life, and a touching tale of youths rushed into adulthood.
Cidade dos Homens (City of Men) Photos
Movie Info
Two lifelong friends raised amidst the turmoil of Rio de Janeiro's notorious Pool Hall Hill attempt to navigate the treacherous maze of adulthood after celebrating their 18th birthdays and becoming caught up in the city's endless cycle of violence in director Paulo Morelli's companion piece to the Golden Globe-winning drama City of God. Laranjinha (Darlan Cunha) and Acerola (Douglas Silva) may not be bound by blood, but these childhood friends are closer to one another than most brothers. While their friendship has gone a long way in helping them both to cope with the strife that surrounds them, the hard truth is that they will both have to fend for themselves now that they've entered into adulthood. For Laranjinha, entering this stage in life means finding his long-lost father; for Acerola it means finally taking responsibility for his growing family. Now, as Laranjinha's cousin, quick-tempered local drug lord Madrugadão (Jonathan Haagensen), finds his power threatened by his former right-hand man Nefasto (Eduardo BR Piranha), it quickly becomes apparent that a formidable war is brewing in the poverty-stricken shantytown. The brother of Laranjinha's girlfriend, Camila (Naima Silva), looks to be a key component in this battle, threatening to draw a neutral man into a deadly confrontation. Meanwhile, Acerola's wife, Cris (Camila Monteiro), is threatening to move to São Paolo so that her family won't be consumed by the violence that has torn apart so many families before. ~ Jason Buchanan, Rovi
News & Interviews for Cidade dos Homens (City of Men)
Critic Reviews for Cidade dos Homens (City of Men)
Audience Reviews for Cidade dos Homens (City of Men)
A worthy follow-up and conclusion to the TV series, but unfairly shadowed by the greatness of City of God. The two long-time friends now deal with problems that are more compelling than before, and they even get caught up in a war between rival gangs that could cost them their friendship.
Carlos Magalhães
Super Reviewer
½
As two friends from the slums of Rio approach their 18th birthdays, a war between two gangs tears their community apart. Continuing the themes of City Of God, City Of Men takes up the story of life in the Brazilian ghetto as the boys become "men", brought up in an society where the family unit is all but defunct. Girls have to grow up at a very young age in an environment where they have no access to contraception and no money for abortion clinics, made pregnant by boys who have no roots, no emotional connections or sense of responsibility as they grew up without role models, having been brought up fatherless themselves and left to fend alone on the dog eat dog streets while their mothers go out to work. The film has the same combination of excellent visuals, intelligent characterisation and amazingly naturalistic performances of the original. It doesn't quite have the same sense of complexity or originality of City Of God, but does once again manage to create a real sense of what it must be like to grow up on these mean streets, showing the incredibly tense gun battles through the darkened slums as anything but glamorous and appealing. It does share the same underlying message as well; if the cycle is not broken, then history will continue repeating itself and nothing will ever change.
½
To be honest I was let down with this, after the harrowing, depressing kill fest of the original this is actually pretty tame. Not much killing and not much action either, there's alot of talk and plot layout which is fine but you do find your mind starting to wander haha The cast are all excellent along with the locations and sweaty, grimy, run down look of the whole film, its so realistic it puts you off wanting to go anywhere near Brazil for a holiday ;) Some of the scenery is truely amazing though. Overall its quite boring until the final sequence but even that is average, and then its over all too quick. Not a bad film but not really engaging either.
Phil Hubbs
Super Reviewer
Cidade dos Homens (City of Men) Quotes
There are no approved quotes yet for this movie.