Christopher And His Kind
(2010)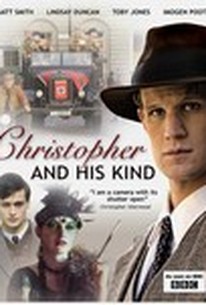 AUDIENCE SCORE
Critic Consensus: No consensus yet.
Movie Info
Christopher Isherwood's bestselling memoir comes to the screen in this affecting BBC docudrama starring Matt Smith. Desperate to escape the suffocating restraints of British society, young idealist Christopher (Smith) flees to Berlin, where he's welcomed into the sexually ambiguous cabaret subculture with open arms. But just as the naïve newcomer begins to embrace his new, sexually liberated lifestyle, Nazi politics cast an oppressive cloud over life in Berlin. ~ Jason Buchanan, Rovi
Critic Reviews for Christopher And His Kind
Audience Reviews for Christopher And His Kind
Christopher and his kind is a thoughtful film adaptation of the Isherwood memoir, filled with uncensored sexuality and grim atmosphere of the beginning of the Third Reich. The acting was simply marvelous, the editing was great. 90 minutes flies by extremely fast. It is funny at times but mostly saddening. It presented Berlin on both a personal level and a objective level, from the underground gay bar to the working class families, it is a good film to absorb some German culture and how Nazi came to power.
Sylvester Kuo
Super Reviewer
½
Production values could be better, but it is a good film. Interesting attempt to capture the zeitgeist of Nazi Germany and the place of gay men in that society.
Christian C
Super Reviewer
As a young writer with one published novel to his name, Christopher Isherwood(Matt Smith) feels he should spread his wings in 1931. That's not mention wanting to get as far away from his domineering mother(Lindsay Duncan) as possible. He settles for Berlin, answering the invitation of his friend W.H. Auden(Pip Carter) and the promise of oodles and oodles of young men, including Caspar(Alexander Doetsch). Feeling that he will stay around for a while, despite the growing threat of the Nazis, Isherwood decides to start giving English lessons to pay the bills and to take up residence at a boarding house recommended to him by Hamilton(Toby Jones), who he met on the train, where Jean(Imogen Poots), a singer who was abandoned by a friend, also lives. "Christopher and His Kind" works on many levels, historical and personal, by showing very smartly and touchingly how the past informs the present and the future while definitely not shying away from the erotic elements of the story. Berlin of 1931 was a brief pocket of freedom to those from England, where homosexuality was illegal at the time, seeking either a first or a second chance. At the time, the communists were seen as a possible hope but after the war very much hated, but were not the same in any case. For Isherwood, it was a time to learn about the difference between sex and love while also getting a first class political education. And most encouragingly is Matt Smith working on a different frequency, proving that he can play normal for a change.
Christopher And His Kind Quotes
There are no approved quotes yet for this movie.