Choke
(2008)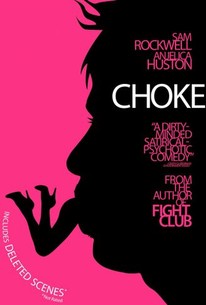 TOMATOMETER
AUDIENCE SCORE
Critic Consensus: While bolstered by strong performances from Sam Rockwell and Anjelica Huston, Choke struggles to capture the tone of Chuck Palahniuk's novel.
Movie Info
Victor Mancini (Sam Rockwell) has got some problems -- when he's not at Sex Addicts Anonymous meetings hunting for women to bed, he masquerades as a choking victim in restaurants as a scheme to gather money from unsuspecting strangers, which he uses to keep his ailing mother (Anjelica Huston) in a high-end extended-care facility for her extreme dementia. But what happens when this messed up Colonial-era theme-park employee finds Mrs. Right in the guise of his mother's doctor -- and how can he give their relationship a try when she tells him he's the next coming of Jesus Christ? Based on Chuck Palahniuk's (Fight Club) pitch-black comedic novel, Choke is adapted and directed by David Mamet alumni Clark Gregg, whose career spans stage, screen, and TV work as well as a screenplay credit for Robert Zemeckis' 2000 thriller What Lies Beneath.
News & Interviews for Choke
Audience Reviews for Choke
It was okay. Kind of played out like Californication as a movie - similar in theme with the sex addict lead character. I didn't really like him too much, the actor or the character. It was watchable in a dark way, but not something I would like to watch again, and I generally like dark/twisted themes. The best thing for me was Kelly McDonald. I seem to have caught a few of her movies lately and I've been quite impressed with her. The flashbacks to his childhood with his mum, played by Angelica Huston, were also fun to watch.
Nicki Marie
Super Reviewer
Felt like a great premise that got "watered down". Like it wanted to be darker, but for whatever reason never quite goes there. Which is sad, because I think it would have been a much better film, if it had. Great performances from the cast with Anjelica Huston (who I love) really shining.
½
the title "choke" refers to a man who makes a living by disguising himself as choking victim. this man happens to be a sex addict. there's no surprise this kind of story is written by chuck palahniuk, who favors to utilize caricatured social outsiders to delineate the conceptualization of his philosophy of life. of course, none of those things he's written should be taken seriously because none of those characters of his are real to the extent that they're devoid of humanity. but who says they aren't fun even it's an apathetic kind of fun? because you cannot relate to any of those palahniuk characters even you ARE really a sex addict with a wacko-mother who steals you from the hospital as an infant then practically spends all her time drifting around the country and doing a series of fun-seeking sabotages. somehow you're soothed by such weird but creative dramatization of his writings while you still remain quite detached. perhaps the only genuine emotion i feel or personally relate to is the void within those palahniuk characters who would do ANYTHING to invite others' attention and an artificial 10-minutes of love because their lives are so pathetically vacant in a world where they cannot find any substantial empathy. under the facade of those palahniuk characters is an angry teenager who imagines himself as sex-addicts, anarchist, psychopath, any member of those marginalized social groups, trying to barrow some of those real sorrows from the social outsiders to give their wounded sentiments a falsified meaning. but why? to give it a rough, dismissive answer would be they're people who are so bored and so spoilt that they need excuses to amuse themselves and live up a little. (quite true, maybe a bit insensitive and judgemental)...the other version of answer would be: his frivolous "style over substance" kind of writing is a substitution of sentimentalism. "fight club" (the book) was released in 1996, right? the nineties, the decade of slackers, who listened to nirvana and pearl jam. i suppose, people who lived through that decade as teenagers or young adults in their early 20s are inclinded to suffer from a mental obstacle which hinder themselves from appropriately expressing a simple sentiment, especially those who've been obssessed with an "it" attitude. it's like when you feel hurt, lonely, devastated, you don't know how to say that word directly, then you seek other ways to express it: smearing your face with bad makeup, dyeing your hair, cutting yourself or imagining yourself doing many of those forbidden crazy things. but all you crave is just love, compassion and any of those common things. the ending of "choke" and "fight club" is just the guy finally finds the woman who loves him and they hold hands together. they don't really give a damn about social stratifications, existentialist search of identity or meaning. what they want is just as mundane as everyone else: love and acceptance, and the release of sentiments. any form of anarchy or revolt is just a camouflage of an individual emotionally crippled from voicing out their sentiments. (simply, because it ain't cool.) whether it's choke or fight club, chuck palahniuk writes common love stories with lots of imagined twists which have nothing to do with reality but slackers' attention-grappling wish-fulfillments. (ps) i say i feel it because i could literally do anything to get the attention for those i have personally cared or liked or loved. just like throwing stones randomly into a pond to create some ripples or ANYTHING to repress the hurt of being emotionally abandoned by your friends or once-friends and to escape the feelings that those you still somehow care (not willing to admit it) don't really respond you. i try hard not to do it because...ok, IT AIN'T COOL. (ha, pathetic, i guess..and very emo, just like a needy teenager!)..a confession from a pseudo-slacker in 2010s.
Veronique Kwak
Super Reviewer
Choke Quotes
There are no approved quotes yet for this movie.