Chinese Coffee
(2000)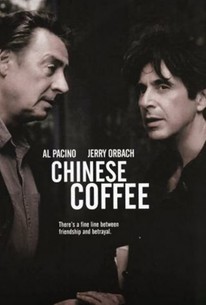 AUDIENCE SCORE
Critic Consensus: No consensus yet.
Movie Info
Al Pacino made a rare return to the stage in 1994 when he starred in a Broadway production of Ira Lewis's play +Chinese Coffee. In this film adaptation of the drama, Pacino recreates his performance and also directs. Harry Levine (Pacino) is a writer in his early fifties who has published two novels, but never enjoyed enough literary success to leave his job as a doorman. Harry has just finished a third book, and is waiting for his close friend Jake Manheim (Jerry Orbach) to read the manuscript and give him his opinion. Harry is already edgy as he awaits Jake's verdict, since his longtime girlfriend, artist Joanna (Susan Floyd), has just called an end to their relationship. Jake, on the other hand, broke up with his wife Mavis (Ellen McElduff) when he decided to abandon his 30-year career as a photographer in pursuit of a (thus far unsuccessful) career as an actor. At first Jake tells Harry he hasn't yet read his new book, but in time he confesses that he has and that, from a literary standpoint, he thinks Harry simply doesn't have the talent to be a success; he also feels hurt and betrayed as a friend that Harry used sensitive moments from Jake's private life as plot points in his novel. Chinese Coffee was Al Pacino's second effort as a film director, following Looking for Richard, his semi-documentary look at staging William Shakespeare's +Richard III.
Critic Reviews for Chinese Coffee
All Critics (1) | Fresh (1) | Rotten (0)
A New York story born out of the acclaimed Actors Studio, Chinese Coffee is a tragic, at times comedic drama that focuses on the themes of trust, betrayal and compromise found in friendships.
Audience Reviews for Chinese Coffee
Al Pacino added flashbacks to the original play's script in order to break up the constant stream of dialogue, and in the special features, Pacino wonders if they're too much. They are because nothing significant happens during them, and the same can be said about the film's main action. So little happens in the one-on-one interplay that it fails to compel ... until the end. Pacino's final monologue almost makes it worth the wait. The film centers on artists, and I suspect that its audience is limited to the people it concerns. Despite its obvious flaws, being in this group and having experienced an utter lack of money to keep me going, I enjoyed many parts of this film's action. Pacino and Orbach are fantastic, but they would've been even better if the film had a little more meat and raised the stakes of the conflict.
Jim Hunter
Super Reviewer
Interesting play on film by director and star Pacino. It's good to see Pacino do interesting work like this instead of his usual "Now where is my paycheck?" films. A good companion piece with Looking For Richard for the arty crowd.
Christopher Brown
Super Reviewer
½
Al Pacino isn't a director, and he doesn't propose to be, but this is a terrific little film and I'm very glad that I got the opportunity to finally see it. The acting is great, and the source play is beautifully written. There's a sense of personal connection, both with the writer and the actors, and the result is a thoroughly convincing character study.
Chinese Coffee Quotes
There are no approved quotes yet for this movie.