Chillerama
(2011)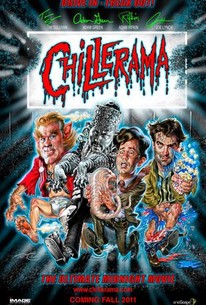 Movie Info
It's the closing night at the last drive-in theater in America and Cecil B. Kaufman (Hatchet's Richard Riehle) has planned the ultimate marathon of lost film prints to unleash upon his faithful cinephile patrons. Four films so rare that they have never been exhibited publicly on American soil until this very night! What could possibly go wrong? -- (C) Official Site
Critic Reviews for Chillerama
Audience Reviews for Chillerama
Juvenile, crude and generally funny/gross the film could easily pass for a Troma movie with the exception of less boobs and more people that can act. The highlight for me is Adam Green's Diary of Anne Frankenstein which features Joel David Moore and Kane Hodder. Damn funny.
A.D. Villarreal
Super Reviewer
A sleazy horror movie anthology homage to sleazy horror movie anthologies. Gleeful if not substantial.
Directed by some of modern horrors best new talents, Chillerama is a good anthology of horror stories. The directors of the film have taken a liking to the Grindhouse cinema much like Quentin Tarantino and Robert Rodriguez did with their film, Grindhouse. Chillerama features four stories that are homage's and parodies of old school horror flicks of the 1950's to the 1970's. There are a few weak elements in the film, such as the second story, which is a musical, and aside from The Rocky Horror Picture Show, I'm not a big fan of musicals. Aside from I was a teenage Weabear, this film is a fun little horror anthology. However there are aspects of the film that could have been improved upon. There are some great stories that are very funny, and Chillerama is a great addition to the short list of horror anthologies worth watching. This film is a fine tribute to old school horror films, and what's great about this film is that in its two hour running time, the filmmakers fit so much creativity into the film. Aside from the werewolf musical, which I previously stated absolutely sucked, this film was good for what it was. If you're looking for a fine tribute to old school horror, then you might find it here with Chillerama. Some of the stories are ridiculous especially the segment "Wadzilla" which probably the best story in this anthology. Chillerama has a good cast of actors here, and I think that the fact that four of today's foremost horror directors collaborated on one film makes this a must see film. Sure, the film could be better, but for the most part, it succeeds at being an entertaining two hours of crazy original horror stories. Only the most diehard horror fan will enjoy this.
Chillerama Quotes
There are no approved quotes yet for this movie.