Children Underground
(2001)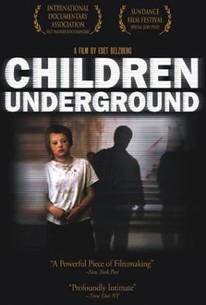 Children Underground Photos
Movie Info
When Romanian dictator Nicolei Ceaucescu outlawed the use of contraceptives and encouraged his subjects to have more children in a bid to increase his nation's population, his campaign had a terrible and dangerous side effect -- thousands of children were born to broken or dysfunctional families in a nation mired in political and economic instability, resulting in a large and rapidly growing population of homeless children in the city of Bucharest, with their numbers estimated at over 20,000. Children Underground is a documentary that explores this ongoing tragedy, offering a view of the larger problem and taking a closer look at the lives of five children living on the streets of Bucharest. Sixteen-year-old Cristina survived physical torture and a stay in a mental institution before escaping to Bucharest's Victory Plaza, where she's the hard-bitten leader of a gang of young hoodlums. Fourteen-year-old Macarena is a lost soul who gets through her days by sniffing paint fumes. Twelve-year-old Mihai comes from a home so fearsome he has opted to be homeless rather than stay with his abusive father, who once chained him to a radiator so he would not run away. Ten-year-old Ana is often beaten by older children, and like Macarena, blots out her misery by sniffing paint; she tries to protect her eight-year-old brother, Marian, who already bears the emotional scars of his violent and chaotic childhood. The first feature from documentarian Edet Belzberg, Children Underground received an enthusiastic reception and many positive reviews after its screenings at the 2001 Sundance Film Festival.
Critic Reviews for Children Underground
Audience Reviews for Children Underground
½
Tremendously depressing story about young kids in Bucharest who spend their lives engaged in violence with one another and getting high on homemade goop. See it when you need to be saddened.
John Ballantine
Super Reviewer
Remembering reading about the horror of the Romanian orphanages a while ago, it's heartbreaking to see that life didn't get any better for these kids. If the point of making this documentary was to help these kids in some way, how could the crew stand by and watch these kids hurt themselves and each other? I'm also curious to find out if this benefitted them in any way. Some were fortunate enough to get off the streets, while others were still wandering around helplessly. It's a well done documentary, but where's the line between being a documentary and exploitation of a situation?
nefnie lee
Super Reviewer
½
Wow. This is a spectacular doc. The footage shown is phenomenal and unbelievable. You have to see it to believe it.
Children Underground Quotes
There are no approved quotes yet for this movie.