Chicken with Plums
(2012)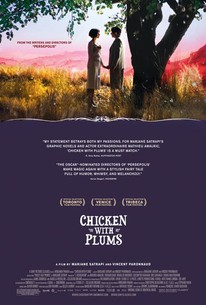 TOMATOMETER
AUDIENCE SCORE
Critic Consensus: Whimsical and melancholy, Chicken with Plums is visually striking and dreamily compelling despite its occasional narrative missteps.
Chicken with Plums Photos
Movie Info
Teheran, 1958. Since his beloved violin was broken, Nasser Ali Khan, one of the most renowned musicians of his day, has lost all taste for life. Finding no instrument worthy of replacing it, he decides to confine himself to bed to await death. As he hopes for its arrival, he plunges into deep reveries, with dreams as melancholic as they are joyous, taking him back to his youth and even to a conversation with Azrael, the Angel of Death, who reveals the future of his children... As pieces of the puzzle gradually fit together, the poignant secret of his life comes to light: a wonderful story of love that inspired his genius and his music... -- (C) Sony
News & Interviews for Chicken with Plums
Critic Reviews for Chicken with Plums
Audience Reviews for Chicken with Plums
In 1940s Tehran, a master musician decides to go to bed to die after his beloved violin breaks and he can't find a replacement; his life story is told in flashbacks and dream sequences featuring appearances by Socrates, the Angel of Death, and a giant Sophia Loren. An exotic and elegant fantasy drama that strikes an unique tone of despondent whimsy; beautiful, romantic stuff.
In 1958 Tehran, Nasser-Ali Khan(Mathieu Amalric, who gives another tremendous performance) is a world class violinist without a violin. So his brother Abdi(Eric Caravaca) tells him about a Stradivarius on sale in a distant town. However, Nasser's long suffering wife Faringuisse(Maria de Medeiros), a teacher, wants to know who is going to look after their son Cyrus(Mathis Bour) if he goes. Nasser simplifies that by taking him along, luckily not getting himself killed after his son spends the entire epic bus trip running up and down the aisle. In the end, Nasser gets his violin but is still not happy. In fact, he is so depressed that he takes to his bed to wait for death. First, forget about the title "Chicken with Plums." It suggests sentimentality when the movie's mood is anything but in its sweet melancholy. However, the tone is never oppressive, as it floats along in a variety of styles, including animation, in its expressive examination of mortality and fate, going so far as to also explore the future destinies of the two children. Sure, it may seem silly to the outside observer that Nasser is so torn up about a lost violin. But as the movie sensitively shows by going back and forth in time, there are some very good reasons for his sadness that emanate from a single tragic event.
Chicken with Plums Quotes
There are no approved quotes yet for this movie.