Chicago Overcoat
(2009)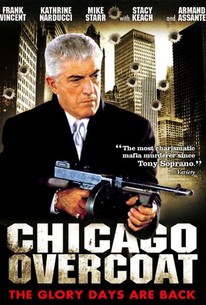 AUDIENCE SCORE
Critic Consensus: No consensus yet.
Movie Info
His glory days as a hit man for Chicago's most powerful crime family fading into a distant memory, a seasoned killer accepts one last job in an attempt to secure his retirement, and discovers just how much the streets have changed in the last twenty years. In his heyday, Lou Marazano (Frank Vincent) was the number one triggerman for the Outfit, a ruthless gang that ruled all of Chicago. His exploits were legendary, and his ability to pull off big jobs without leaving any evidence was an enormous asset to the criminal powerbrokers in the city. Now Lou is in his sixties, and jailed Outfit boss Stefano D'Agnostino (Armand Assante) needs a big favor. There's a conspiracy linking some outwardly upstanding city officials to the Outfit, and Lou is exactly the kind of guy who can make those suspicious connections disappear. But this time someone's on to him. Veteran Homicide Detective Ralph Maloney (Danny Goldring) is certain that Lou has a hand in the latest round of underworld assassinations, and he's determined to do whatever it takes to connect him to the crimes. With Detective Maloney closing in and his job not yet finished, Lou finds regret hanging heavily on his conscious, and memories of his estranged family beginning to cloud his better judgment.
Critic Reviews for Chicago Overcoat
There are no critic reviews yet for Chicago Overcoat. Keep checking Rotten Tomatoes for updates!
Audience Reviews for Chicago Overcoat
½
Many actors known for their work in Mafia films become tight-cast as gangsters, meaning that audiences are so familiar with them as a gangster, that they can't see them as anything else. That's fine when they're younger, but once these guys are in their 70s, it becomes a lot harder to find work. Some turn to comedy, while other try, unconvincingly, to remain gangsters, this is one of those stories. Lou Marazano (Frank Vincent) is one of the last OG's in his Chicago crew. While he still sees himself as a gangster, the next generation sees him as a dinosaur. One night Marazano becomes aware of how the others see him, and decides to take on one last big job in order to prove himself. Frank Vincent was terrific in the Sopranos, because he was an old school boss. In this film, he's an old school hitman, running around town, trying to intimidate people with a Tommy-Gun. The whole thing, wasn't believable or funny, it was just sad, watching this old man running around like it's still 1940. The rest of the cast was no prize either, made up of guys who had three lines in a Sopranos episode 15 years ago. Chicago Overcoat proves that it takes a lot more than just gun fire and some f-bombs to make a decent film about the Mafia. There is no honor in this final act of violence and there isn't even a compelling reason for it. The whole theme of this film is an old man trying to prove something that he no longer has. I feel badly that a legend like Frank Vincent is forced to take on roles like this and I just found the whole thing to be sad and in poor taste.
Todd Smith
Super Reviewer
½
Surprisingly well made, Chicago Overcoat features excellent cinematography and feel, as well as competent direction. The script, save some occasionally awkward dialogue, is good, and features a bold ending that I wasn't expecting. Frank Vincent has what it takes to be a leading man, and this movie proves it.
Jeffrey Meyers
Super Reviewer
½
After seeing Frank Vincent on the DVD cover holding a Tommygun, I was hoping Chicago Overcoat was more of a movie about the old gangster days but it wasn't so I was disappointed about that.It wasn't the best gangster flick there is but still worth checking out if you're into gangster flicks
Brody Manson
Super Reviewer
Chicago Overcoat Quotes
There are no approved quotes yet for this movie.