Cherrybomb
(2009)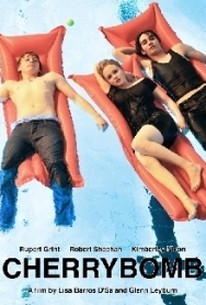 Movie Info
A teenage seductress pits two best friends against one another over the course of steamy summer that quickly spins out of control. Luke (Robert Sheehan) and Malachy (Rupert Grint) were best friends until Michelle (Kimberly Nixon) came into the picture. Fearless, free spirited, and drop dead gorgeous, she's just returned to Belfast to live with her father (James Nesbitt) when she catches the attention of studious teen Malachy. But Malachy isn't the only one with eyes for Michelle; his rebellious best friend Luke (Sheehan) finds her just as irresistible, and before long the two pals have entered into a heated competition for her affections. As the summer heats up, so does their rivalry, leading to a tense showdown that soon threatens to turn deadly. ~ Jason Buchanan, Rovi
Critic Reviews for Cherrybomb
Audience Reviews for Cherrybomb
½
Pleasantly surprised by this. I didn't actually recognize Rupert Grint and, judging by the description on the back of the case, I was expecting the usual out-of-control American teen story. I didn't realize it was British until I put it on and I think this was better for it. I liked all three of the main characters, even though all were obviously troubled in various ways. The young cast did a good job and the characters were well written. A small criticism would be that the ending is a little brief. I would have liked to have known what actually happened to the three of them. However, the reasonably short running time means this doesn't outwear it's welcome and it is well paced and keeps you interested.
Nicki Marie
Super Reviewer
½
The first feature from British shorts directors Lisa Barros D'Sa and Glenn Leyburn, this is a small-scale but deceptively affecting teen drama. Following three alienated adolescents around a bleak Belfast, Cherrybomb's story is nothing new: the aimless youngsters hang out, get it on, and drink. Inevitably, harder drugs also make a critical appearance. However, while the dialogue is a tad clunky, the young leads - Rupert Grint (in his first truly "adult", if not adult, role), Kimberley Nixon and Robert Sheehan - share an authentic chemistry. Visual flourishes elevate TV-drama themes to make for a genuinely fresh, cinematic piece. Which is a back-handed compliment when, even with Grint's Harry Potter popularity, Cherrybomb couldn't score a big-screen run here. With good support from the likes of James Nesbitt, D'Sa and Leyburn's promising debut has more emotional grit than we might expect from a teen flick. Disturbing twists and turns create a genuine edginess to proceedings.
Dean McKenna
Super Reviewer
½
Stilted, amateur 'Skins' wannabee with uniformly unlikeable characters.
Gordon Anderson
Super Reviewer
Cherrybomb Quotes
There are no approved quotes yet for this movie.