Cherry Tree Lane
(2010)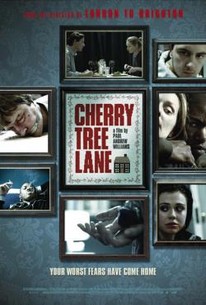 Movie Info
A couple is terrorized by a gang who is hunting their son.
Critic Reviews for Cherry Tree Lane
Audience Reviews for Cherry Tree Lane
An hour and 17 minutes of my life wasted.
Beth Murphy
Super Reviewer
Superbly directed and acted home-invasion thriller that's over in a brisk 75 minutes. It's like Funny Games without the breaking of the 4th wall or the "aren't I clever, and aren't you sick" audience winking. It has a beginning, a middle, and an end, and that's about it, and the lack of point means it only really works as a technical exercise.
Daniel Parsons
Super Reviewer
Williams tackles a growing media preoccupation in the UK, namely knife wielding yoofs, but pushes it into the face of the cosy middle classes with a worthy follow up to 'London to Brighton' (lets just ignore 'The Cottage'). What the film does well is to capture how quickly a calm suburban evening can be destroyed by the wrong knock at the door. Williams cleverly contrasts the attackers and their prey and it has a much more authentic feel than say Haneke's 'Funny Games'. Most of the violence is heard off-screen or through the results which disturbingly makes your mind fill in the blanks. The central lull in proceedings actually becomes tense as you and the characters wait for the promised grisly end.
Gordon Anderson
Super Reviewer
Cherry Tree Lane Quotes
There are no approved quotes yet for this movie.