Kirschblüten - Hanami (Cherry Blossoms)
(2008)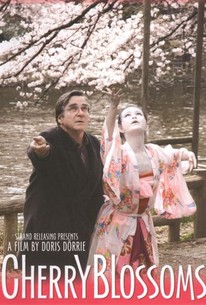 Kirschblüten - Hanami (Cherry Blossoms) Photos
Movie Info
An elderly husband suffering from a terminal illness begins to appreciate his wife on a whole new level after she dies suddenly during a trip to see their children and grandchildren in Berlin. Rudi is not long for this world, but only his doctor and his wife, Trudi, know how serious his condition has truly become. As Trudi wrestles with whether or not to break the news to her ailing husband, the doctor recommends to her that the couple perhaps do something that they have been planning for years but could never find the time to fit into their busy schedules. Later, after convincing Rudi to travel with her to Berlin and visit their family for the first time in years, the couple is heartbroken to realize that their children have no time for them. When Trudi suddenly passes away and Rudi realizes that he never knew his wife as well as he wanted to or expressed his affection in a way that truly reverberated, the widower is devastated to discover just what sacrifices Trudi had made to be with him. In the aftermath of that discovery, Rudi dedicates his remaining days to realizing Trudi's unfulfilled dreams and traveling to Tokyo to celebrate her life during the breathtaking cherry blossom festival -- a colorful festival staged to celebrate beauty, impermanence, and new beginnings.
Critic Reviews for Kirschblüten - Hanami (Cherry Blossoms)
Audience Reviews for Kirschblüten - Hanami (Cherry Blossoms)
I thought I already reviewed this one! The acting style was something that I had to get into, but when the true drama sets in halfway, I couldn't stop crying (yeah I know, I'm a big woos). Which for me, is always a good indicator for a high rating (Really? Really!). Somehow the movie The Lovely Bones touched me in a way this movie did as well.
In "Cherry Blossoms," Trudi(Hannelore Elsner), knowing her husband Rudi(Elmar Wepper), a mid-level bureaucrat, is dying, wants to finally travel with him to Japan to visit their son Karl(Maximilian Bruckner), see Mount Fuji and watch a performance of Butoh which she loves. But he decides against it, feeling they have some perfectly fine mountains in Germany, thank you very much. Instead, they travel to Berlin to visit family who feel they are being inconvenienced by their visit. So, the couple moves on to the Baltic Sea. While owing a huge debt to Ozu's magnificent "Tokyo Story" in its depiction of the marginalization of senior citizens, "Cherry Blossoms" is still an amiable and bittersweet meditation on mortality. The movie contains a twist that turns everything on its head and reinforces the notion that we can never take anything for granted.(Strange as it may seem, this reminds me of a line from the voiceover from "Kick-Ass.") Rudi goes through the motions of his clockwork life, thinking that it will always be the same at least until he retires the following year, displaying his lack of imagination. It is Trudi who hears the clock ticking with time running out with the man she has lived with for decades and always thought she would spend the rest of her life with.
The first half of Cherry Blossom is a wonderfully realised German tribute to Tokyo Story. An elderly couple go to visit their children only to find that they do not have time for them. The twist here is that the wife knows that the husband is dying but he does not. This adds a forever lingering atmosphere of tragedy, but is far from predictable. The second half of the film moves to Japan and explores it's own territory. Here we are treated to tender and saddening moments that many people will be able to relate to. The Japanese landscapes are captured in a way that fully expresses the wonder felt by the protagonists. Some of the child/parent conflict is a bit blatant and some of the culture cross is uninspired. Another film where a westerner thinks somebody introducing them self as Yu, is saying "you"? Really? Luckily the wonderful and meditative feel that radiates off the film, cover those small blemishes.
Luke Baldock
Super Reviewer
Kirschblüten - Hanami (Cherry Blossoms) Quotes
There are no approved quotes yet for this movie.