Cherry 2000
(1988)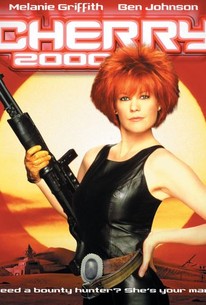 Movie Info
In this arch sci-fi sex comedy-cum-action extravaganza, a hard-nosed female mercenary helps a hapless yuppie find a new body for his robot girlfriend in the post-industrial wasteland of the American Southwest. In the year 2017, what little remains of civilization feeds off the scrap heap of 20th century waste, while even casual sex has become a matter of regulations and contracts. Like many other members of the L.A. white-collar elite, Sam Treatwell (David Andrews) takes refuge in a quasi-marriage with his beloved sex robot, Cherry (Pamela Gidley). After a soft-focus, bubbly sexcapade short circuits Cherry's body, Sam considers replacing her, but the shoddy production values of modern robots make it obvious that the vintage appliance is irreplaceable. To put it simply, the guy's in love. The wistful romantic therefore heads out to The Zone, a forbidding no man's land, where he hopes to find a new "chassis" in which to insert Cherry's unique personality chip. To do so, he needs the help of a "tracker," and E. Johnson (Melanie Griffith) is just the woman for the job. The gun-toting, red-headed road warrior leads Sam through a dystopian desert landscape full of psychopaths and opportunists toward their final destination: an abandoned warehouse full of antique androids. Along the way, Sam learns what it's like to interact with a woman who has brains and a heart instead of a microchip. Filmed in 1986, Cherry 2000 didn't receive its limited theatrical release until 1988, the same year star Griffith received an Oscar nomination for her role in Working Girl. Griffith and director Steven de Jarnatt previously worked together on the pilot for the 1980s revival of Alfred Hitchcock Presents. Ben Johnson, veteran of many a Hollywood Western, appears as E. Johnson's mentor, Six Finger Jake.
Critic Reviews for Cherry 2000
Audience Reviews for Cherry 2000
What's an urban pretty boy to do in the post-apocalypse once he's broken his favorite bit of indispensable technology and nobody makes replacement parts anymore? That's the opening gambit in this sci-fi romp that's more comedy/romance than sci-fi, a tip of the hat to the old pulp days of the genre. Melanie Griffiths is the star and she's actually good in this = surprise.
Kevin M. Williams
Super Reviewer
½
This is a strange sci-fi movie with a stupid story and so-so actors. I didn't care for it at all.
If you ever meet someone who thinks that it is impossible to suck and blow at the same time, just tell them to watch this movie.
Randy Tippy
Super Reviewer
Cherry 2000 Quotes
There are no approved quotes yet for this movie.