Chernobyl Diaries
(2012)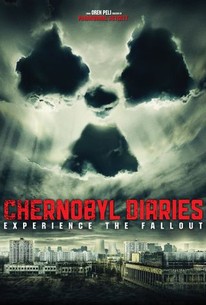 TOMATOMETER
AUDIENCE SCORE
Critic Consensus: Despite an interesting premise and spooky atmospherics, Chernobyl Diaries is mostly short on suspense and originality.
Movie Info
Chernobyl Diaries is an original story from Oren Peli, who first terrified audiences with his groundbreaking thriller, Paranormal Activity. The film follows a group of six young vacationers who, looking to go off the beaten path, hire an "extreme" tour guide. Ignoring warnings, he takes them into the city of Pripyat, the former home to the workers of the Chernobyl nuclear reactor, but a deserted town since the disaster more than 25 years ago. After a brief exploration of the abandoned city, however, the group soon finds themselves stranded, only to discover that they are not alone... -- (C) Warner Bros.
News & Interviews for Chernobyl Diaries
Critic Reviews for Chernobyl Diaries
Audience Reviews for Chernobyl Diaries
Cannot even believe I paid to see this.
Bad acting, predictable scares, insipid writing, and utterly devoid of any compelling suspense or surprises; this horror schlock wastes away its eerie premise to become a lackluster rip-off of 'The Hills Have Eyes'.
Christopher Heim
Super Reviewer
Straight to the point: Chernobyl Diaries has some of the worst acting/script/motivations I have seen in a movie, along with incredibly predictable 'scares'. YET, it has probably the best untapped location of any horror. From the offset, you're introduced to some 'cool' kids who'll annoy the hell out of you immediately. Nothing is believable, none of the characters connect with you or each other. I hated the characters so much I was literally waiting for them to be lynched by the monsters. The only characters/actors I appreciated was a tour guy who takes them to Chernobyl and a hippie Australian who tags along with his hollow girlfriend. Not surprising (and this was the reason I went to see the movie) was the fact the movie improved ten-fold when they arrive in Chernobyl. The location is astonishingly eerie and you can easily believe the myths of mutants living there. Here the film actually becomes scary to some extent and you feel yourself tensing up. Until of course, the actors interrupt your concentration with some appalling, predictable stuff. And so the finale winds down with your typical 'running blindly (literally at the very end), being chased by hordes of evil freaks'. And characters don't die so much as get whisked away into the darkness. Whenever the movie builds up to something scary, it's always undone by a disappointing result, leaving you a little bit deflated each time. 2 Stars 4-5-13
Bruce Bruce
Super Reviewer
Chernobyl Diaries Quotes
There are no approved quotes yet for this movie.