Chelsea on the Rocks
(2009)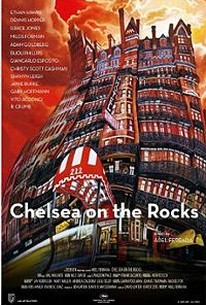 TOMATOMETER
AUDIENCE SCORE
Critic Consensus: Abel Ferrara's loving portrait of New York's Chelsea Hotel is less interested in telling the story of its famous residents than in exploring the magic of the place that housed so many moments in rock history.
Chelsea on the Rocks Photos
Movie Info
The documentary blends archival footage with an enigmatic interview style fitting for the Bronx-born enfant terrible Ferrara. Past and current residents wax poetic of the bohemian playground's storied history, mysterious metaphysics, and deified long time owner Stanley Bard. Bard was forced out by the hotel's board in 2007, and the Chelsea's inglorious past was threatened with a corporate makeover.
News & Interviews for Chelsea on the Rocks
Critic Reviews for Chelsea on the Rocks
Audience Reviews for Chelsea on the Rocks
½
Throughout his stewardship of the venerable Chelsea Hotel, Stanley Bard aimed to encourage artists by either charging them cheap rents or deferring their rents but new management aims to run the hotel like a business, going so far as to evict some of its tenants. With his frustrating documentary "Chelsea on the Rocks," feature filmmaker Abel Ferrara aims to capture this end of an era while also proving that making a documentary is not as easy as it looks. First, the movie is unfortunately steeped in hazy nostalgia, even with the hotel's worst moments like the deaths of Nancy Spungen and Sid Vicious, here recreated with a little help from Giancarlo Esposito and Adam Goldberg which as always welcome as they are also ruin the illusion. For the most part, the movie tends not to otherwise identify its less famous subjects and it would have been nice to get to know some of them. Yes, we all know who Ethan Hawke is and the conversation between Stanley Bard and former tenant Milos Forman is fun to watch. That's a part of the anecdotal style of the film which ignores the historical details behind the hotel(except for a plaque). And bringing up 9/11 is not terribly relevant but it does lead to my favorite line in the movie about how it reinforced New Yorkers' willingness to stay.
Chelsea on the Rocks is a film that sounds like it should be an interesting and worthwhile film. Sadly, Abel Ferrara takes a setting and completely makes a mess of it. The film is so unfocused and unclear, that it ends up being story after story, in no particular order. It's unorganized to say the least. We, at times don't know who's talking or what in the fuck they are talking about. Unless, you recognized the person talking, good luck knowing who they are. There's no writing at the bottom telling us who they are. It's just endless "interviews" with people speaking about their personal experiences with the hotel. At one minute we will be hearing about the night of Sid and Nancy. The next minute, we hear about a guy having a stroke. Then we hear about the owner questioning a kid. Then about all the dealers. Then about ghosts. Alright a lot of shit happened in the hotel, I get it. Pick a fucking subject and go from there. I was extremely excited to watch this movie, but that initial excitement was gone after the first 15 minutes. For awhile, I thought the pointless interviews were just introductory stuff that Ferrara would dive deeper into later. Nope. He had no intention on letting the viewer have any idea on what was going on. He also had no intention on teaching us anything about the hotel. But worst, he had no intention on making a documentary. This is more like a lazy collage of video. Pointless. I respect Ferrara as a filmmaker. He's made some worthwhile movies in his career, but I have absolutely no idea what he was doing here. He's got an endless amount of people talking about their experiences, from Ethan Hawke to Milos Forman, with no clear idea on where he wants the movie to go or what he wants to say about it. An interesting subject is completely slaughtered here, and is instead made into a boring stream of consciousness.
Melvin White
Super Reviewer
Chelsea on the Rocks Quotes
There are no approved quotes yet for this movie.