Cheap Thrills
(2014)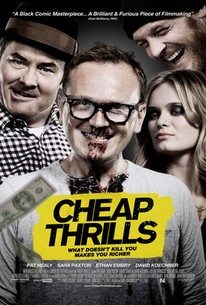 Movie Info
Cheap Thrills follows Craig (Pat Healy, Compliance), a struggling family man who loses his low-wage job and is threatened with eviction. In an effort to delay facing the music at home, he heads to a local bar and encounters an old friend (Ethan Embry, Empire Records). The two friends are roped into a round of drinks by a charismatic and obscenely wealthy stranger (David Koechner, Anchorman 2) along with his mysterious wife (Sara Paxton, The Inkeepers). The couple engages the two friends in a series of innocent dares in exchange for money over the course of the evening, with each challenge upping the ante in both reward and boundaries. It seems like easy and much needed money, but the couple's twisted sense of humor pushes just how far Craig and his friend are willing to go for money and cheap thrills. (c) Drafthouse
News & Interviews for Cheap Thrills
Critic Reviews for Cheap Thrills
Audience Reviews for Cheap Thrills
Craig Daniels (Pat Healy) is having a hell of a day. He's been fired on the very same day he's recieved an eviction notice on his front door. Content to drink his troubles away, Craig runs into an old friend from High School. Together they start catching up and run into a unique couple, a couple who starts offering them money simply for doing oddball things for their amusement. The duo agrees and even goes back to the couples house with them, and that's when things really start to get bizarre. I feel like I've seen something similar and far more serious before, but I can't place my finger on it. What I really liked about this film was that despite it's B-movie status, and obvious lack of quality writing, what goes down isn't as expected as you would think. A lot of it really was surprising and they do spare us the pain and torture of doing what is obvious. I also enjoyed Pat Healy as Craig, he's not the kind of character you'd expect to see in a movie like this, and he added an interesting dynamic to a cast that was otherwise pretty droll. Cheap Trills has a few funny and unexpected moments in it, and to be honest it was better than I thought it would be. It still however very much deserves it's B-movie status and reeks of inexperience.
Todd Smith
Super Reviewer
I think that those who rated this movie particularly highly wanted to embrace a film that puts the unthinkable on film but it is purely sensationalist at its heart. Some films were just never supposed to be made.
John Ballantine
Super Reviewer
I know we're supposed to laugh along as the two lead characters are humiliated and debased, but I can't help but feel violated by director E.L. Katz as the film delves into the twisted and depraved.
Eddie Chung
Super Reviewer
Cheap Thrills Quotes
There are no approved quotes yet for this movie.