Chasing Papi
(2003)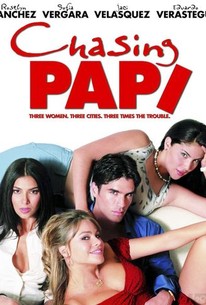 TOMATOMETER
AUDIENCE SCORE
Critic Consensus: Obnoxious in tone and unable to provide its trio of stars a decent quip, Chasing Papi will have audiences running in the other direction.
Movie Info
A man learns the hard way that, when it comes to women, three is more than a crowd in this frantic comedy. Tomas Fuentes (Eduardo Verástegui) is a successful advertising man living in Los Angeles who has a way with the ladies. Almost too much of a way, in fact, since he's currently dating three beautiful women in three different cities: Lorena (Roselyn Sanchez), a bright and attractive lawyer living in Chicago; Cici (Sofía Vergara), a cocktail waitress from Miami with a fiery personality; and Patricia (Jaci Velasquez), a New Yorker looking to get out from under the domineering shadow of her mother. As it happens, all three women are fans of noted television astrologer Walter Mercado, and on his advice, they each decide to take a bold step in their relationships and visit Tomas in L.A. Needless to say, the women are enraged to discover Tomas' rather spectacular infidelity, but that turns out to be the least of his problems after a mixture of booze and tranquilizers lands him in the hospital, a pair of crooks (D.L. Hughley and Freddy Rodriguez) kidnap him, and he discovers Cici and Patricia are wanted by the law. Produced under the title Papi Chulo, Chasing Papi was the first feature film from director Linda Mendoza after an extensive resume of credits in television comedy.
Critic Reviews for Chasing Papi
Audience Reviews for Chasing Papi
Most successful farces are interesting because they exaggerate stereotypes to previously unexplored hilarity, have comical, original schtick, and occasionally push the bounds of farce to become satire. This film goes 0/3 with three strikeouts - the hat trick. The characters are neither stick to the type nor rise to become real people. "Comical, original schtick?" Not even slightly. And I can't even think of what it could be satirizing. The most offensive aspect of the film is its depiction of women. Not one is independent or self-respecting, and we can never understand what they see in the philandering object of their affections. Even their eventual claim to independence is contrived and lacking in any conviction. These women make me ashamed to be a feminist. Overall, this film attempts to be a farce and succeeds only in being an insult to the audience's intelligence. Netflix warned me that I wouldn't like this film; it's good to have a friend who knows me so well.
Jim Hunter
Super Reviewer
Chasing Papi Quotes
There are no approved quotes yet for this movie.