Charley Varrick
(1973)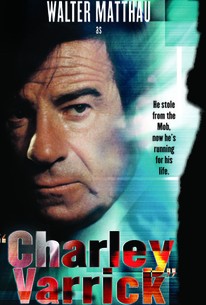 Movie Info
In this compact, fast-paced action thriller, a bank robber really messes up when he and his avaricious young partner accidentally knock over a Mafia-controlled New Mexico bank. As a result, the two find themselves pursued by a cold-blooded hit man who will not stop until he gets his men.
Critic Reviews for Charley Varrick
Audience Reviews for Charley Varrick
The early 1970s were a golden age for gritty American crime films. There must have been something in the water. For films such as The French Connection, The Getaway, & The Friends of Eddie Coyle all to have come out in one 3 year period seems nothing short of miraculous. Sure you can point to the waning idealism of the 1960s, coupled with the country being dragged through the mud of the Watergate scandal, as being a good source of inspiration for these films, but how they were all superbly crafted by these different filmmakers is pretty fascinating. Yet, whether the stars were perfectly aligned or not, you can add Don Siegel's "Charley Varrick" to the canon of great crime films from this period. Right from the brilliantly staged opening heist, director Don Siegel takes you on quite a ride. The film is smartly paced. Siegel builds the tension while showing the minute details of this way of life. He knows when to hold back and when to quickly unleash. Varrick is such an interesting character. He doesn't seem to love the thrill of the crime. In fact, he only seems to have stumbled into it because his previous career path of stunt piloting disintegrated. He is smart, rational, but in way over his head. Speaking of Watergate, there must have been something cathartic about watching a reasonably good American take a piece of the pie from a crime syndicate that in my opinion, eerily resembles the American government. Efficiently run, but unfortunately by unscrupulous men. Even if we know his fate is likely sealed from the start, one can imagine that the American people must have been especially thrilled to see their money fall into the right hands for a change. In Don Siegel's America there seems to be no honest living. The world is run on luck, both good and bad. Siegel must have had some good luck working in his favor because Varrick is a smart thriller that offers an interesting look into the early 1970s American mindset.
½
An intelligent, discreet and very entertaining thriller by the master of pulp and badass-ness Don Siegel. Great performances by Joe Don Baker as the hitman Molly, and Walter Matthau as the crop-duster/bank robber Charley Varrick.
Pierluigi Puccini
Super Reviewer
Fantastic thriller, and one of the finest and smartest plots ever committed to film.
Tim Salmons
Super Reviewer
Charley Varrick Quotes
There are no approved quotes yet for this movie.