Chances Are
(1989)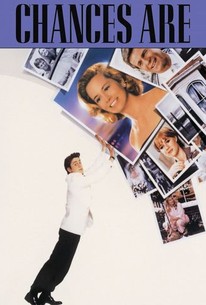 Movie Info
A mistake in heaven causes a lawyer to retain a partial memory of his previous life before being reincarnated. As his "new" self, he makes the acquaintance of his widow and meets and falls in love with his own daughter -- just before his complete memory returns.
Critic Reviews for Chances Are
Audience Reviews for Chances Are
½
The cinematic counterpart to Heart and Souls; it's the other movie in which RDJ's body is taken over by restless ghouls. It's really funny and has a dynamite cast. The story is ridiculous at times, but i'm pretty sure that the intent of the movie was to play around with how bizarre ghost stories come off sometimes. When it want's to be, this has a great dramatic love story that spans over half a lifetime. The characters are believable as real people and their eventual conflict with RDJ having the soul of shooter MCGavin locked inside him.
Conner Rainwater
Super Reviewer
½
Personally, I have a soft spot for Robert Downey Jr. films from the 90's, and Cybill Shepherd has always been a favorite of mine. That's the main reason I liked the film. It was zany, romantic, and funny. I'm sure people disagree based on their own agendas or views, but that's how I felt about the film, honestly.
Spencer S.
Super Reviewer
½
Weird, but funny and adorable.
Leigh Ryan
Super Reviewer
Chances Are Quotes
There are no approved quotes yet for this movie.