Chain Letter
(2010)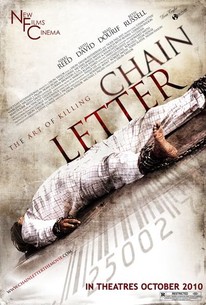 Movie Info
When high school senior Jessie Campbell (Nikki Reed) and her tight-knit group of friends begin to receive a series of foreboding email chain letters, they have no idea the terror that awaits them. With a warning that if they break the chain, they will lose a life, the seemingly harmless email turns deadly when one-by-one the friends that do not forward the chain letter are hunted down and gruesomely killed by horror's newest villain, the Chain Man. A terrifying horror film that will leave audiences wondering if modern technology is really as safe as we think it is, CHAIN LETTER was directed by Deon Taylor and written by Taylor and Michael J. Pagan. The film stars Nikki Reed (Twilight, New Moon, Thirteen), Michael J. Pagan (How Stella Got Her Groove Back, Nite Tales), Noah Segan (Deadgirl), Matt Cohen (Boogeyman 2), Cody Kasch (Desperate Housewives), Betsy Russell (Saw III, Saw IV), Cherilyn Wilson (90210), Brad Dourif (Alien, One Flew Over the Cuckoo's Nest), Keith David (Crash, Barbershop), with Michael Bailey Smith (The Hills Have Eyes) as the killer.-- (C) New Films International
Critic Reviews for Chain Letter
Audience Reviews for Chain Letter
Cast: Nikki Reed, Keith David, Betsy Russell, Brad Dourif, Ling Bai, Brian Tee, Noah Segan, Clifton Powell, Matt Cohen, Cherilyn Wilson Director: Deon Taylor Summary: When a group of tech-savvy high school pals receives an electronic chain letter that demands they each forward the message or face consequences, they laugh it off as an online prank and delete the posts. But when the deranged sender of the message starts hunting them down one by one, they find themselves in a fight for their lives. My Thoughts: "The one star is me being generous. I am a huge fan of horror flicks and this was just a huge disappointment, and what's really sad is it could have been much better. Instead, what you get is a film that was poorly done with bad everything. Script, acting, direction, that was the most horrifying thing this film had to offer. Its truly amateur hour here. Not even the killer was interesting. The one star is for the gore. At least it had that."
♥˩ƳИИ ƜѲѲƉƧ♥
Super Reviewer
Boo. I rented this because Netflix showed a three star rating, which is actually pretty decent for a horror flick. Therefore, I'm honestly confused by A) how that mess of a plot actually attracted some bigger names and B) why the hell people gave it such a good rating. It's funny, and it's not supposed to be. It's a mess, and I don't just mean the lame over-the-top gore.
½
Much like an actual chain letter...you should ignore this. I only picked it up because 3 things on the DVD case caught my eye: 'Brad Dourif', 'Betsy Russell' and 'gore'. Needless to say none of them are worth sitting through this half-baked mess.
A.D. Villarreal
Super Reviewer
Chain Letter Quotes
There are no approved quotes yet for this movie.