Centurion
(2010)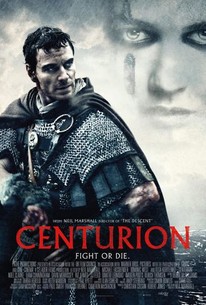 TOMATOMETER
AUDIENCE SCORE
Critic Consensus: It's a bloody geyser of Neil Marshall's typically stylish B-movie action, but Centurion is too focused on hacking and slashing to deliver original dialogue or interesting characters.
Movie Info
CENTURION is set during the war between Roman soldiers and Pict tribesmen during the 2nd century Roman conquest of Britain. Michael Fassbender stars as Quintus Dias, Roman centurion and son of a legendary gladiator who leads a group of soldiers on a raid of a Pict camp to rescue a captured general (Dominic West). The son of the Pict leader is murdered during the raid, and the Romans find themselves hunted by a seemingly unstoppable group of the Pict's most vicious and skilled warriors, led by a beautiful and deadly tracker (Olga Kurylenko), and hell bent on revenge.-- (C) Magnolia
News & Interviews for Centurion
Critic Reviews for Centurion
Audience Reviews for Centurion
Centurion is an average movie with good performances and it's a film that could have been much better considering its subject. I found the film to focus more on visual style than story, and it's a great shame because this film really could have stood out. I liked the film, but I expected a bit more as well as I have a great interest in the Romans. If you're like me, don't expect this one to be an accurate portrait of the Romans, because it's far from it, it'[s an action film first and foremost and it takes liberties to make this enjoyable for the viewer. The film had some good ideas as far as the story is concerned, but it kind of feels rushed a bit too. Centurion should have been better and though I found it entertaining, I really felt something was missing to make this a truly memorable film. The film is worth seeing due to well constructed action, which the film has plenty of, and the performance of Michael Fassbender. However, the plot just seems unfocused at times, and it loses steam halfway through the film, and that's where the action really makes you forget that the film average. The film is no Gladiator, and it should be seen as mindless popcorn action, which is what in the end this film is about. Centurion isn't awful, or mediocre, but it should have been better too. Fans of historical epics, might be disappointed in this film, but for action fans, there's still plenty to enjoy if you can forget the lacking story and average ton e of the film. Centurion is, despite its imperfections good entertainment that is average considering the potential the film possessed.
½
This very gory but deeply entertaining adventure film about the disappearance of the 9th Roman Legion in Northern Scotland takes no prisoners. It throws you right into the moral dilemma of cheering for the last few survivors of the grand invading army trying to make their way back through hostile territory, hunted by the barbarians who do a little more than just defend their homeland. While the characters and plot are not without stereotypes, the fights are fun, the story enthralling and Fassbender makes another strong point of being the next big leading man in Hollywood. Much like a pulp comic, this may be a guilty pleasure, but an enthralling, fun and beautifully filmed one nonetheless.
The last survivors of a Roman garrison wiped out by the Pict warriors whose lands they have invaded attempt to reach friendly territory with a war party in hot pursuit. What we have here is a western which exchanges Romans and Picts for cowboys and indians. In fact, in Neil Marshall's tradition of ripping off classic films there is more than a nod towards Butch Cassidy & The Sundance Kid at one point but it has the world weary tone of tough guys sick of war and betrayal rather than the light heartedness of George Roy Hill's film. The film has a nice gritty quality about it with solid performances from Fassbender and West, although Marshall seems rather more interested in evisceration than characterisation meaning we don't ever really connect to the characters on any emotional level. There's plenty of glorious scenery to admire however and it's a decent enough historical action film that's no Gladiator, but if you enjoyed King Arthur despite its obvious shortcomings, you should enjoy this too.
Centurion Quotes
There are no approved quotes yet for this movie.