Cell 211 (Celda 211)
(2009)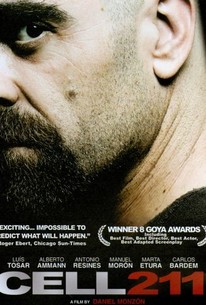 Cell 211 (Celda 211) Photos
Movie Info
A lawman must side with a gang of criminals if he's to save his own life in this action drama from Spanish director Daniel Monzon. Juan Oliver (Alberto Ammann) has accepted a job as a prison guard, and the day before he begins work he leaves his pregnant wife Elena (Marta Etura) at home and goes to the penitentiary for an orientation session. During a tour of the facilities, Juan is struck on the head in a freak accident; he passes out and is carried to a nearby cell. As the jailers wait for a doctor to arrive, a riot breaks out, and Juan is left behind. When he wakes up, all is in chaos, and Malamadre (Luis Tosar) and a band of fellow inmates have taken control of the prison. Malamadre thinks Juan is another prisoner, and for the sake of his own survival he plays along, throwing in his lot with fellow rebels Tachuela (Vicente Romero) and Releches (Luis Zahera). When Malamadre learns that a handful of Basque terrorists are confined to the same prison, he sees an opportunity to use them as a bargaining chip with the government, and Juan is caught between saving his own skin and helping Malamadre make a deal that could have grave nationwide implications. Celda 211 (aka Cell 211) received its North American premiere at the 2009 Toronto Film Festival. ~ Mark Deming, Rovi
Critic Reviews for Cell 211 (Celda 211)
Audience Reviews for Cell 211 (Celda 211)
½
If you get through the gory opening scene, then you will probably love the rest of this action-packed prison flick that draws a very fine line between the good guys and the bad guys with its clever conceit: an eager new guard comes in a day before he starts his job and, through a terrible coincidence, gets caught up in a riot for the ages. There's one scene that seems unlikely - slight spoiler, a much-hated guard is thrown to the wolves - but the rest of the movie is white-knuckle drama (with a surprising and interesting political dimension behind it) that takes a character and tests him in a way a few films do. Brave, exciting work that swept the Goyas (Spain's Oscars) in 2009. Definitely see this one.
Daniel Perry
Super Reviewer
Very well done. Really good cast. I was extremely caught up in it from beginning to end....and it sure didn't end the way that I expected it to. Good job!
Cynthia S.
Super Reviewer
Like "Let the Right One In" and "The Girl with the Dragon Tattoo" this is another European film that has unashamedly been set up for an American remake already (Paul Haggis being the man involved). Seldom are remakes anywhere near as good and yet again, this will prove a hard one to match. Juan (Alberto Ammann) is about to start work as a prison guard and is taking a tour of a maximum security area when he is injured slightly in an accident and left behind as a riot breaks out. Juan convinces Malamadre (Luis Tosar), the convicts' leader, that he is a new inmate who has been beaten up by guards, and the two men become close as the crisis escalates. The film opens with the look of a low budget television film and at first I began to think I shouldn't have listened to the plaudits I'd read of this. Not before long though, it really kicks into gear and cranks up the tension and excitement. Within minutes I was hooked. I'm an avid fan of prison drama's, with their high level of suspense and on edge atmosphere and sense of danger. This is no different and wastes no time in exposing you to the violence and brutality of the inmates. Helped no end by two excellent central performances, particulary Luis Tosar as the snarling dominant ring leader. Director Daniel Monzon keeps the story briskly moving with several moments of unbearable and skillfully handled suspense and the fact that it avoids the usual genre conventions with many unexpected plot developments, helps in keeping you captivated and wondering what direction it will go in. European cinema seems to be reaching a bigger audience these days and this is another worthy of attention. Fans of the 2009 French film "A Prophet", or any prison drama for that matter, should find plenty to enjoy here. An excellent well crafted film that delivers tension in spades.
Mark Walker
Super Reviewer
Cell 211 (Celda 211) Quotes
There are no approved quotes yet for this movie.