Cave of Forgotten Dreams
(2011)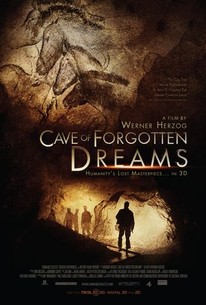 TOMATOMETER
AUDIENCE SCORE
Critic Consensus: Hauntingly filmed and brimming with Herzog's infectious enthusiasm, Cave of Forgotten Dreams is a fascinating triumph.
Cave of Forgotten Dreams Photos
Movie Info
Cave of Forgotten Dreams follows an exclusive expedition into the nearly inaccessible Chauvet Cave in France, home to the most ancient visual art known to have been created by man. It's an unforgettable cinematic experience that provides a unique glimpse of the pristine artwork dating back to human hands over 30,000 years ago - almost twice as old as any previous discovery. -- (c) IFC Films
News & Interviews for Cave of Forgotten Dreams
Critic Reviews for Cave of Forgotten Dreams
Audience Reviews for Cave of Forgotten Dreams
½
Director Werner Herzog has been making some exceptionally great documentary films lately, and this foray into a long forgotten cave in France is no exception. Much of the film relies on showing the audience what it takes to get into the cave, which is cordoned off from the viewing public to keep out mold and particles that could destroy the cave paintings. (Which are the oldest in the known world.) In the last twenty minutes of the documentary we get to see all the paintings up close, without narration, and only simple music to soothe and calm. The film played extensively in the IMAX theaters in 3D, and the effects of that would probably have been transient. Still, without that glorious illusion the paintings still look beautiful, as is the way they are filmed. We learn the history of them before we see many of them, so their meaning is all the more fluid and histrionic, making the spectacle into one unmatched in modern cinema.
Spencer S.
Super Reviewer
It is unfortunate that the Chauvet Cave in France is nearly inaccessible, as it is home to the oldest cave drawings in the world. Fortunately, the best possible choice for a documentarian on the cave was given unprecedented access to embark on an expedition to film what is hidden down there. The film was shot on a strict set of rules, and in 3D. I didn't unfortunately get to see it this way, but I could tell that it was used effectively given how the paintings are done on the curves of the cave walls instead of flat canvases. The film is actually really straightforward and seems like a typical documentary. Of course, it's not completely that way, as Herzog's unmistakable voice and way of speaking dominate the proceedings, but it really is pretty basic stuff. Granted, it's still a good film, despite this, and its important due to the subject matter, but it doesn't stand out like Herzog's other stuff does. I do appreciate how the paintings are treated and analyzed as art though, but while I do like it when he features eccentric talking heads, it all felt really repetitive and tedious here. I'm probably being just a tad kind to this film, mostly because I love Herzog, am a history student, and work as a tour guide in a cave, but those biases aside, this is some good stuff, just kinda uneven in its presentation.
Chris Weber
Super Reviewer
½
More than "art appreciation," Cave of Forgotten Dreams aims to meditate on the possible birthplace of what makes you and I mentally unique in the animal kingdom. Herzog has a beautiful opportunity to show what 30,000 years looks like through the development of stalactites and stalagmites layered over ancient bones and footprints. He states at the very beginning that the drawings on this cave are twice as old as the next oldest known drawings. We would expect them to be primitive, but they are far, far from it. We see the emotions of the animals, we see their movements, their breath. We see a legendary myth still alive today. Our abilities to think abstractly, focus, and document our experience are all present here -- all necessary to create our sense of presence and spirituality.
Matthew Slaven
Super Reviewer
Cave of Forgotten Dreams Quotes
There are no approved quotes yet for this movie.