Stephen King's 'Cat's Eye'
(1985)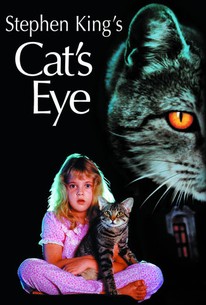 Stephen King's 'Cat's Eye' Photos
Movie Info
Three tales, with a feline as the catalyst. Drew Barrymore, James Woods, Alan King, Kenneth McMillan, Robert Hays. Sally Ann: Candy Clark. Hugh: James Naughton. Junk: Tony Munafo. McCann: Court Miller. Milquetoast: Russell Horton. Lewis Teague directed.
News & Interviews for Stephen King's 'Cat's Eye'
Critic Reviews for Stephen King's 'Cat's Eye'
Audience Reviews for Stephen King's 'Cat's Eye'
Interesting horror anthology, Cat's Eye features three tales written by Stephen King. Although not as memorable as many in the genre, Cat's Eye is a fine film with a good cast. Overall Cat's Eye is a good anthology of horror stories, but is not as good as Creepshow or Trick 'r Treat. This film has three stories, but only two deliver some good chills. Quitters Inc and The Ledge are great stories However the final story The general leaves a lot to be desired. Cat's Eye is one of the better Stephen King films. The film is a fun anthology, never anything great, but definitely worth watching. The film boasts a good cast and there is plenty to offer to Stephen King fans. The best horror stories are the first two, with the third lacking something to really make this anthology very memorable. The film almost succeeds at being a memorable addition to the Anthology genre. But there's something missing to really make Cat's Eye a worthwhile anthology. Despite the mediocrity of the final story, the first two horror yarns that Stephen King conjures up make up for it. Quitters Inc. is an effective tale about a guy join an agency where they convince you quit smoking the most deadly ways. A very effective yarn that stars James Wood as the unfortunate former smoker. Then you have The Ledge which stars Robert Hays who is forced in a deadly bet after he gets involved with the wife of a crime boss. Then you have the final story, The Guard, this story doesn't really close the film well, and it stars Drew Barrymore. This story is quite silly and doesn't do anything to really thrills you. However despite a weak final story, Cat's Eye is a good anthology that is worth checking out.
Yet another great anthology horror movie, this one is of Stephen King stories. It has a lot of great actors, and the stories are great too. I loved it.
½
With the exception of some bad blue screen I still loved this movie. The Goblin at the was still creepy as well.
James Alvarez
Super Reviewer
Stephen King's 'Cat's Eye' Quotes
There are no approved quotes yet for this movie.