Catfight
(2017)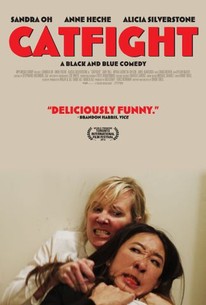 TOMATOMETER
AUDIENCE SCORE
Critic Consensus: Smart, suitably nasty, and well-cast, Catfight lands narrative punches just as fast and hard-hitting as the physical violence doled out onscreen.
Movie Info
Wealthy wine lover Veronica Salt (Sandra Oh, Grey's Anatomy, Sideways) and struggling outsider artist Ashley Chambers (Anne Heche, Hung, Psycho, Six Days Seven Nights) were close in college, but haven't seen each other since. When they find themselves attending the same glitzy birthday party, verbal barbs lead to fisticuffs and an all-out brawl that will keep these two locked in combat for years to come. Outrageous, hilarious, and action-packed, writer-director Onur Tukel's (Applesauce, Summer of Blood, Richard's Wedding) CATFIGHT is a jet-black comedy about two bitter rivals whose grudge match spans a lifetime.
News & Interviews for Catfight
Critic Reviews for Catfight
Audience Reviews for Catfight
½
Very different both from what I expected and from what was advertised. Diverting from expectations is certainly not a bad thing, but I still think that Catfight itself is a bad thing. I think I would feel much fancier if I had enjoyed it, but I really, really didn't.
½
I've always been something of a hippie. While I believe that self-defense is more than acceptable, I've always been of the mind that violence rarely ever solves anything. There's this Albert Einstein series airing on NatGeo and I believe I saw this on a preview for one of the upcoming episodes. It is a quote that is attributed to him and it says that 'Peace cannot be kept by force, it can only be achieved by understanding.' And I would agree with that quote. Peace kept through violence isn't peace, it's intimidation. Why did I start with this for a review about two former friends who, upon seeing each other again for the first time since college, get into a pretty damn violent fight that leaves one of them in a coma for two years? Well, I'll get to that later. But the film takes place over a span of four years and is set against the background of this war in the Middle East that no one in the U.S takes seriously. Whenever you hear something about the war, through this talk show host, he usually follows it up with a fart machine, who's a fat guy in an underwear farting constantly. And I think that captures how some people view war in this world. They don't see it as something serious that's resulting in thousands, maybe even millions, of casualties (both civilian and soldiers) and people just don't grasp the gravity of the horrors of war. They've been desensitized to this idea that war is horrible and seemingly accept whatever the government tells them about the war, regardless of how messed up it may be. This war is important in revealing aspects of Veronica and Ashley's personality. Veronica's husband is a defense contractor who just scored a big deal to clean up debris in the Middle East, profiting from the war and the deaths of people and the destruction of buildings. Ashley is a struggling to sell her art, since it's way too grim and bleak for people's tastes. Ashley, helping her girlfriend cater this birthday that Veronica and her husband are attending, comes across Veronica and they exchange awkward pleasantries, if it can even be called that. Veronica, an alcoholic, is told by her husband to leave the party since she embarrasses him. Veronica leaves and she accidentally hits Ashley when she opens the door. This is when the first fight starts and it is pretty brutal. Long story short, Veronica ends up in a coma for two years. Her husband and son have both died. Her husband killed himself and her son, an aspiring artist, enlisted in the war (after his mother persuaded him to give up art as it wouldn't change the world). She is a woman who has just hit absolute rock bottom. Her life could not be any worse. On the other hand, however, Ashley's life and career has skyrocketed. As a result of the war, which was about to begin just prior to Veronica going into the coma, Ashley's dark and grim art has now found an audience and people willing to plonk down hard-earned money to purchase her paintings. The film keeps Ashley and Veronica apart for quite a while here, as you see both women adjusting to their new lifestyles. Ashley has, realistically speaking, taken a complete turn for the worst. She belittles her assistant constantly and acts like a major asshole to everyone around her. She's also been trying to conceive a baby with her girlfriend, who's infertile. The insemination succeeds and Ashley is carrying an unborn child. Veronica, on the other hand, comes to the realization that she was probably a horrible person to others whom she thought were below them, since she was rich and all. And it's not even something that I believe she did purposely, more subconscious on her part. Anyway she realizes that she completely messed up her life before and she wants to start over fresh. But this is not before she finds out that Ashley is having an exhibit (where she's displaying a painting of Veronica's face through the various phases of being beaten up). While there, Veronica causes a scene and starts knocking down paintings. She then takes the painting with her face and steals it. Ashley follows her down to this tires and rims place and they proceed to have another fight. This is the best of the bunch, in my opinion, as they just brutalize each other with a hammer and a wrench. Tires are thrown as well. But, I digress, Ashley, in fact, ends up in a coma for two years as well after a cinder block falls on her head. Ashley goes through exactly the same thing that Veronica went through earlier, even having the same comatose doctor (played by Dylan Baker, who's hilarious in this movie). Both women have now hit rock bottom (Ashley lost her unborn baby as a result of the coma) and they are exactly at the same level. Though Veronica has moved with her aunt in this secluded place in the country and her life seems like it's finally on track. The film doesn't wait as long before Ashley finds where Veronica is living and they start to fight again. Prior to that, however, Ashley and Veronica share a conversation and it seems as if they will finally find some peace together. Maybe they won't be friends, but there can be some sort of peace between them. It doesn't last long as Ashley accidentally damages the video camera that Veronica's son left for her. He made her videos and that keeps him alive to her. The point is that, I believe, the film is about people who exploit war for their own financial well-being. Veronica might not have done so directly, but her life was affording by exploiting war. Ashley's art exploited the darkness associated with the war and she jumped on that opportunity to make her name at the expense of casualties and destruction. Eventually that exploitation of war caught up to the both of them. I also find that it's a metaphor for war in and of itself. Because it's an endless cycle, just like war. Ashley and Veronica found some sort of common ground there at the end, but they just could not find it in their hearts to achieve some sort of real peace. And, again, this is just like war. Any sort of 'peace' achieved between two warring countries has to be considered tenuous at best. And that's what Ashley and Veronica represent on top of them representing those exploit the misery that is caused by war. So, yea, I really liked this movie. It has more on its mind than two women constantly getting into fights with one another. Anne Heche and Sandra Oh are both absolutely tremendous in this movie. But I will say that this isn't exactly the easiest movie to recommend. It's just not a movie that's easy to like. While I enjoyed it, I can see someone else completely hating this movie. With that said, what matters to me, is that I thought this was an intelligently written and exceptionally acted movie. That adds up to a very good movie, at least to me. Others will have their opinions, but I quite liked this.
Jesse Ortega
Super Reviewer
HISS! BOO! POW! - My Review of CATFIGHT (2 Stars) Ugh!!! Talk about a basket of deplorables. Writer/director Onur Tukel has vomited out this artless, endless (even at 96 minutes), terrible film with the intent of teaching us that violence is not only bad, it's unavoidable and that women can land a punch just as bone-crushing as any man's. Progress!! There's a glimmer of a good premise here, and its stars give it their all, but let's face it, this film exists for the sole purpose of watching women beating the shit out of each other. If not, why are there 3-count-em-3 bone-crunching set pieces? Sandra Oh plays Veronica, the wife of a successful profiteer of the Military Industrial Complex. At one of their swank New York parties, she chats up one of the cater-waiters only to discover she's an old college classmate and rival, Ashley (Anne Heche). They've taken wildly divergent paths, with Oh drinking a lot of wine and being a terrible parent and Heche struggling as a renegade artist and planning to have a child with her girlfriend (an adorably delightful and well-realized performance by Alicia Silverstone). More Alicia Silverstone in movies, please! Oh can't help but point out their class differences. Old wounds get sliced open quickly and before you know it, they're in a stairwell pummeling each other within an inch of their lives. Tukel has chosen to augment the fights with ridiculously loud sound effects just so you won't miss the point that WOMEN ARE STRONG! I won't spoil what happens next, but needless to say, it's not the last time these women will duke it out. Structured on 3 distinctive, complimentary acts, I admired Tukel's idea of symmetry and grasp of primal pain. Oh and Heche dive into this film, and each have their moments where you fully understand the hurt they feel. Tukel clearly admires the films of Sam Peckinpah with their full throttle approach to violence. Oh and Heche grunt, moan, and growl with unchecked ferocity, but to what end? Through and through, they're pretty terrible characters who clearly get a chance to show some levels of humanity, but there's so little to this slog, that I ultimately didn't care. Despite this, performances are very good across the board, with a special mention going to helium-voiced Ariel Kavoussi as Heche's long-suffering assistant who has a wonderful way of telling the truth. Amy Hill also excels as Oh's crazy, tree-hugging aunt. She plays the role relatively straight instead of the cartoon it could have been. Myra Lucretia Taylor also won me over as Oh's pragmatic housekeeper. I could have done entirely without Craig Bier's appearance as a host of a political commentary show that's really all about farting. It doesn't help that this on-the-nose satire looks green-screen phony. In the behind-the-scenes featurette , cinematographer Zoe White recounts how Tukel isn't a fan of pretty images and likes to shoot fast. She says she still wanted to keep things cinematic, but what we get instead is one ugly, cheap-looking film. Sure, its themes and look all support the point Tukel's trying to make, but that doesn't make it a fun experience. I don't usually mind nihilistic films, but CATFIGHT is that oddity - a women's empowerment film about women who can't control or harness their power. It ends up being an ugly, gross time at the movies.
Glenn Gaylord
Super Reviewer
Catfight Quotes
There are no approved quotes yet for this movie.