Casino Jack And The United States Of Money
(2010)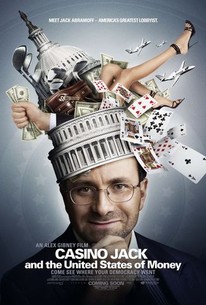 TOMATOMETER
AUDIENCE SCORE
Critic Consensus: Casino Jack's subject matter is enraging, but in the hands of director Alex Gibney, it's also well-presented and briskly entertaining.
Casino Jack And The United States Of Money Photos
Movie Info
This portrait of Washington super lobbyist Jack Abramoff -- from his early years as a gung-ho member of the GOP political machine to his final reckoning as a disgraced, imprisoned pariah -- confirms the adage that truth is indeed stranger than fiction. Oscar-winning filmmaker Alex Gibney once again wields the tools of his trade with the skill of a master. Following the ongoing indictments of federal officials and exposing favor trading in our nation's capital, Gibney illuminates the way our politicians' desperate need to get elected -- and the millions of dollars it costs -- may be undermining the basic principles of American democracy.
Cast

News & Interviews for Casino Jack And The United States Of Money
Critic Reviews for Casino Jack And The United States Of Money
Audience Reviews for Casino Jack And The United States Of Money
½
"Casino Jack and the United States of Money" is an insightful, yet occasionally frustrating documentary about the rise and fall of Jack Abramoff, superlobbyist, able to sidestep regulations in a single bound but who would eventually be taken down by his own type of kryptonite. A lot of the frustration comes from the movie's first half, detailing Abramoff's ideological origins with campus Republicans. Whereas it might be necessary to say how fond they were of spy pulp novels and Indiana Jones(John Kennedy was also fond of spy novels and look where that got us in Vietnam), too much time is spent on these quirky details with footagle of Tom Delay on "Dancing with the Stars" playing over the end credits. Correct me if I'm wrong but future generations are going to think Abramoff committed worse crimes than casting Dolph Lundgren in a movie. Actually, his crimes really are not that interesting, compared to the ripple effects as the documentary makes an intelligent case for regulation(I think I have read about the labor situation in the Northern Mariana Islands elsewhere...), public funding of elections and continued existence of newspapers as the Washington Post again follows the money. And I do suppose that one can think of Indian casinos as giving money back to an otherwise impoverished people or cynically as revenge for crimes committed previously by the white man. Even with Abramoff going to jail in the end, I do not have a lot of optimism for the system, no matter who is in charge.
A really good documentary showing just how corrupt the U.S. political system is - lobbyist are the legislators and money are the constituents.
Thomas Johnston
Super Reviewer
Alex Gibney is a masterful documentary filmmaker, having crafted Enron: The Smartest Guys in the Room and the Oscar-winning Taxi to the Dark Side. His latest doc chronicling the rise and fall of corrupt lobbyist Jack Abramoff is insightful, clear-eyed, and entertaining like his other work, but something's missing here and it's hard to put my finger on it. Gibney's doc lacks the fire and outrage of his previous exposes, so Casino Jack doesn't hold your attention as strong. It focuses closely on Abramoff's scandals and his influence peddling and gives shrift coverage to bigger issues about our government being for sale to the highest bidder. The lack of attention to a bigger picture hurts the movie's power. But ultimately I think what makes Casino Jack lacking is that it is missing one very key participant – Abramoff. Gibney interviewed the man several times in prison but Abramoff declined to be involved after pressure from federal prosecutors. By all accounts, Abramoff is a charismatic, larger-than-life figure, whose Reagan era College Republican idealism transforms into greed and out-of-control hubris (Abramoff foolishly wrote every single thought down in e-mail). His absence is noticeable and blunts the storytelling angles the film can take. With Abramoff's side, there could be much more insight and dirt. Casino Jack is a solid viewing but not up to snuff for Gibney. Wait for the Kevin Spacey film later this year. Nate's Grade: B
Nate Zoebl
Super Reviewer
Casino Jack And The United States Of Money Quotes
There are no approved quotes yet for this movie.