Case 39
(2010)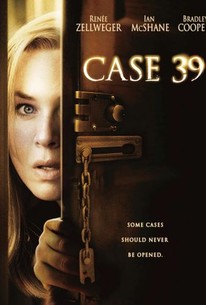 Movie Info
In CASE 39, family services social worker Emily Jenkins (Renée Zellweger) thinks she has seen it all... until she meets 10-year old Lilith Sullivan (Jodelle Ferland) and the child's cruel and dangerous parents. Her worst fears are confirmed when the parents try to harm Lily, their only daughter. Frightened for her life, Emily enlists the help of Detective Mike Barron (Ian McShane) and takes Lily in while she continues the search for the perfect foster family. Just as it seems as though Lily is on her way to a more loving home, under the guidance of Emily and psychiatrist (Bradley Cooper), dark forces surrounding this young girl come to light and, little do they know, their attempts to protect her will only bring on greater horror... -- (C) Paramount
News & Interviews for Case 39
Critic Reviews for Case 39
Audience Reviews for Case 39
½
While a Zellweger fan (and she does well here) this story about innocent looking and acting DEMON CHILD! has been done before and better, and hoping and wishing for a new wrinkle here won't make it real. Ahh, well ... better luck next time.
Kevin M. Williams
Super Reviewer
MisterYoda ?
Super Reviewer
Edward Sullivan: They say when you're born you're given your eternal soul. The part of you that lives on, lives again. Whatever evil she is,didn't come from us. It was already there. From the moment she came into being, she brought something with her. Something older, destructive. Soul of a demon.  "Some cases should never be opened." Not as terrible as I expected, but I expected the worst. Case 39 is still just recycled parts from better evil kid horror movies, like The Bad Seed and Orphan. It ends up playing like a more entertaining form of The Good Son. It also has a lot of things that just don't add up when examined closely, but that is the least of its problems. The biggest problem the film has is that its target audience is going to hate it and find it repetitive in the least. The target audience for this film are the people who enjoy the evil kid horror genre. And guess what; we've seen them all. So this isn't going to cut it. When you try to make a movie like this, you have to come up with something new, strange, and terrifying to add to the formula. If you can't, the result will be a failure, like Case 39. The sweetness of the little girl is played off terribly. I don't know if that is a result of her acting skills or bad writing. It may just be a combination of the two. To be honest though, the movie does have a decent start. It all goes downhill quickly though, because the writing is terrible and stuff just doesn't add up. Why would the little girl be afraid of telling the social workers about her situation because the father gives her a nasty look? She's the evil one. I know we aren't supposed to know that then, but damn have some foresight in your fucking script.  There is some entertainment value in the movies awfulness. I can say I was never bored by the movie. I can also say that a lot of the entertainment I got from it came from me laughing at the ridiculousness of some of the scenes. I could talk about everything I hated in the movie, but that would take all day. Let's just leave it by saying it's bad. Maybe if you have never seen another movie in the sub genre, you will find it intriguing; but if you have, I would suggest skipping it.
Melvin White
Super Reviewer
Case 39 Quotes
There are no approved quotes yet for this movie.