Carnosaur
(1993)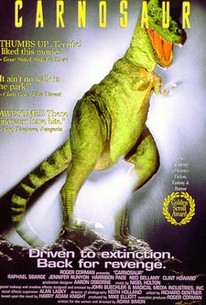 Movie Info
One of the more popular features from Roger Corman's "B"-factory Concorde/New Horizons, Carnosaur perpetuates the grand Corman tradition of zeroing in on a big-budget Hollywood studio moneymaker, then dashing off a quick-and-dirty poor man's version before moss gets a chance to grow on the larger film's concept. This bargain-basement spin on Jurassic Park was actually based on a novel by John Brosnan (under the pseudonym Harry Adam Knight). It features Diane Ladd (whose daughter Laura Dern took the high road on Spielberg's film) as a kooky mad scientist whose experiments on human and dinosaur DNA result in dual disasters -- first, a rubbery midget Tyrannosaurus bred from dinosaur and chicken DNA (imagine the barbecue potential!) which escapes the lab and goes on the requisite bloody rampage; and second, a specially-engineered virus with the ability to replace human beings with dino-babies. Although this exploitation quickie doesn't waste too much time delivering the standard Corman cargo (blood and breasts), the mayhem is too often derailed by endless genetic techno-babble from Ladd, whose freaked-out performance is the film's sole plus. The downbeat ending is pure '80s, and paves the way for the inevitable sequels.
Critic Reviews for Carnosaur
Audience Reviews for Carnosaur
We don't get to see enough Dinosaurs on screen mostly because a majority of the time the movie sucks. There been a few exceptions like King Kong, The Lost World, and the Jurassic series where Dinosaurs were awesome. Unfortunately we have more movies like Carnosaur that kill Dinosaurs from being on screen. Carnosaur has a ridiculous plot about genetically manipulated and very hungry dinosaur escapes from a bioengineering company and reeks havoc on the local desert town. Literally nothing is worth remembering from this horrific mess. There's no characters worth caring about, there's no purpose in the plot, and it wasted your time. It has some really baffling scenes, like how our character is running away from a Dinosaur and he's enters a room with strobe lights. It look more like a nightclub scene for a comedy and I was literally waiting for the Dinosaur to do some ridiculous dance. I'm serious when I say this, every single character is poorly written in this movie. Like when a woman is screaming when she sees the a Dinosaur and only stops after the Dinosaur bites off her leg. Or another scene when some hippie character says "Greeting my green brother" to a Dinosaur, who knows what the writers were smoking to write that. This is easily one of the most poorly written movie to include Dinosaurs that I've ever seen. The acting is so bad and I don't think have of the cast have ever acted in the business after this release. I find it ironic that Carnosaur was release in the same year as Jurassic Park and somehow managed to get an entire series made. The only thing more baffling is how poor the special effects are. Even my old plastic Dinosaur toys are more realistic than anything in this movie. I don't know about you, but I don't ever remember Dinosaurs ever having human arms when there eating there victims. Carnosaur is not worth your time and Dinosaurs deserve to be in cetter weekend. Lets hope in the future these Dinosaur don`t become extinct in movies.
Caesar Mendez
Super Reviewer
Roger Corman and his B-Movie pals make the world a much better place to live. Carnosaur is unashamedly bad. From the wonky crooked dinosaur puppets, to the acting which stumbles between remembering lines and confusion as to where they are. Rather than going for the simplistic take of cloning dinosaurs (Spielberg, I'm looking at you). Carnosaur favours a convoluted science experiment involving chickens that give birth to dinosaur eggs...??? Maybe? And ends in human women laying dinosaur eggs. If they'd had a budget then the finale, where a construction vehicle takes on a T-Rex, would have been impressive. The ending is very downbeat and depressing, not really what you want after 82 minutes of awful cinema, but very brave.
Luke Baldock
Super Reviewer
In 1993, two dinosaur movies came out. Jurassic Park was one of them. But a month before that film was released, out came Carnosaur, a ridiculous B-movie with effects comparable to the Godzilla movies. A mad scientist decides to wipe out humanity and return dinosaurs to the kings of the world by releasing a virus that impregnates all the women in the world with dinosaur eggs, which will kill them when they give birth. Sound nuts?
Edward Boxler
Super Reviewer
Carnosaur Quotes
There are no approved quotes yet for this movie.