Carnal Knowledge
(1971)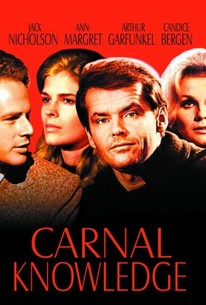 TOMATOMETER
AUDIENCE SCORE
Critic Consensus: Although it comes lopsidedly from the male gaze, Carnal Knowledge is a sexually frank and ferociously well-acted battle between the sexes.
Movie Info
"Maybe you're not supposed to like it with someone you love." With a script by satirist and cartoonist Jules Feiffer, Mike Nichols's Carnal Knowledge (1971) ruthlessly exposed the damage wrought by pre-1960s sexual mores. From their post-World War II college years at Amherst through the Vietnam era, buddies Jonathan (Jack Nicholson) and Sandy (Art Garfunkel) are a catalogue of male sexual dysfunction. Sensitive Sandy falls in love with and marries college sweetheart Susan (Candice Bergen) only to wonder years later if he missed out on finding the perfect sex/love partner. Jonathan lives for aggressive sexual conquest (starting with Sandy's Susan in college), even as he rails against female "ballbusters," finally guilt-marrying his tiredly voluptuous mistress Bobbie (Ann-Margret, in an Oscar-nominated performance) after she tries to kill herself. By the late '60s, Sandy has moved on to a hippie chick girlfriend (Carol Kane) who can raise his consciousness about the sexual revolution, and Jonathan is single again, but Sandy is a little too old for the peace-and-love generation, and Jonathan bitterly faces emasculating impotence.
Critic Reviews for Carnal Knowledge
Audience Reviews for Carnal Knowledge
½
I can't believe it took me so long to get to what was once must-see viewing back in the day, but at least now I know what all the fuss was about. Jack Nicholson owns this bit about life in the free swinging early 70's, where "making it" was more important than keeping it, regardless of the consequences. Nicholson represents those as well, oblivious as to why he's so fuggin' miserable. The rest of the cast is good, but Ann-Margret rules as the woman trying to be all things in the maelstrom of changing paradigms those days embodied.
Kevin M. Williams
Super Reviewer
Incredibly and despicably cynic, and also quite true, because that's exactly how we talk about the opposite sex, one of us is either Nicholson or Garfunkel, but by the end both are two sides of the same coin in an aimless search for settling down with a saint in society/whore in bed type of so called "perfect" female companion, The tone is fascinating, directing and acting-wise, Nichols' mise en scene borrows heavily from Italian psychosexual dramas and french nouvelle vague. A great approach, attack, pulverization and then rebuilding of a man's ego.
Pierluigi Puccini
Super Reviewer
Both sexually exploitative and immature in their own ways, two men navigate changing sexual mores during the sexual revolution. I always thought that Closer was the meanest film ever made, certainly the meanest in Mike Nichols's canon. Now that I've seen Carnal Knowledge, I think Closer might have found its match but not its better. Exploring themes of lust and betrayal, Carnal Knowledge centers on the lives of two men, played by Jack Nicholson and Art Garfunkel, who resort to sex and sexual relationships to determine their self-worth. They wonder if the relationships they've had precluded them from other experiences, and what the film amounts to is a perception that no matter what path we choose, we're doomed to regret and a paralyzing lack of fulfillment. Nicholson's performance is one of the best of his career; the argument between his character and Bobbie is up there with the best moments he's ever put on film. Ann-Margaret is also incredible, and Garfunkel surprised me with his lonely, awkward naivete. The script is also superb with such great lines as Sandy claiming that a woman is doing him a favor is she sleeps with him and of course, "I'd almost marry you if you leave me." Overall, like Closer, this is a love story for adults -- cynical adults who know that the rules of engagement are always changing and often aggressive.
Jim Hunter
Super Reviewer
Carnal Knowledge Quotes
There are no approved quotes yet for this movie.