Carlito's Way
(1993)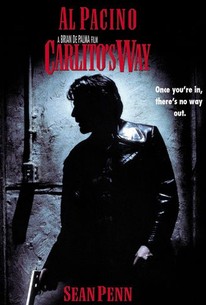 TOMATOMETER
AUDIENCE SCORE
Critic Consensus: Carlito's Way reunites De Palma and Pacino for a more wistful take on the crime epic, delivering a stylish thriller with a beating heart beneath its pyrotechnic performances and set pieces.
Movie Info
Carlito's Way is a tale of a former hood trying to escape his former life. Al Pacino is Carlito Brigante, a high-level Puerto Rican drug dealer sprung from a three-decade jail sentence after only five years, thanks to a technicality and his sleazy, cocaine-addled lawyer, Dave Kleinfeld (Sean Penn). Carlito renounces his previous ways and takes a job as the manager of a club that Kleinfeld has invested in, planning to save enough money so that he can eventually move to the Caribbean. But no sooner is Carlito back on the streets of New York than his old life claws at him in the form of both old partners (Luis Guzman) and vicious up-and-comers (John Leguizamo). Nevertheless, Carlito stays clean and even restarts his relationship with a dancer named Gail (Penelope Ann Miller), until he is finally led astray by Kleinfeld, who manipulates Carlito into participating in the murder of a Mafia don from whom Kleinfeld has stolen a million dollars. At that point, the race is on to see whether Carlito and Gail can escape his world for good. The film is based on two novels about Carlito written by New York State judge Edwin Torres.
News & Interviews for Carlito's Way
Critic Reviews for Carlito's Way
Audience Reviews for Carlito's Way
De Palma's electric set pieces are peppered throughout a faltered narrative, but Pacino and Penn hold it all together exceptionally well.
Kase Vollebregt
Super Reviewer
½
A decade after they lit the place up with Scarface, Brian De Palma and Al Pacino reteam for another compelling crime drama involving the drug trade- a gripping film that shows the consequences of a life of crime from a much more real and gritty perspective point of view than Scarface. Not that Scarface is a bad movie, it's a great film, but this one is just more human. Carlito "Charlie" Brigante has just been released from prison after serving 5 years of a 30 year sentence thanks to the work of his scheming and smarmy lawyer Dave Kleinfeld. Now that he's out, Carlito decides to go the straight and narrow, and cut ties with his old life. He's got big dreams ahead of him, and, noble as they may be, he finds it hard to completely let go of the past. As I said above, it's a very human film, and it goes for the heart as much as it does for the throat. Yeah, the film has shades of familiarity (what film doesn't?) but it's very well played. De Palma tones down some of the manic camera work, and there's no split screen, but we do get some good long takes and tracking shots, and that typical feeling of being inside the event of the film that he's known for doing. It's a gorgeous picture, and you truly get immersed in Carlito's world. It's set in the 70s (I believe, as the film doesn't make it too obvious, but it feels like that's what they're trying for), and the details, though subtle, are nice. This could have been more overt, but they went for restraint, and that makes the picture a lot stronger I think. It's also got some terrific performances. Pacino once again stuns as Carlito, and I dig the beard he brings with his accent. Sean Penn is tremendous as Kleinfeld, and he's the kind of coked-out worm you love to hate. Luis Guzman and John Leguizamo provide some decent supporting performances, and Penelope Ann Miller is fine as Carlito's old/rekindled flame Gale, but the real treat acting wise is the brief cameo from a young and barely recognizable Viggo Mortensen as an old wheelchair-bound associate of Carlito's. It's a truly remarkable appearance. All in all, this is a wonderful film. It's long, but it doesn't feel like a chore. You get to know the characters and world, and you really try to root for them and hope that a more mature perspective on the world will yield better results. Definitely give this one a shot. Truly one of De Palma's finest.
Chris Weber
Super Reviewer
One of the best crime dramas of the 90's. Excellent Gangster Film! Carlito's Way (1993), is a brilliant cinematic work. Pacino's performance as Carlito Berganzi displays the duplicity and subsequent torment between his reformed spirit, and the endless seduction of the street, embodied more specifically as his reputation,legacy,those who know him, of him, and those whom he allows in his innermost circle. Sean Penn is phenomenal as the lawyer representing Carlito, his metamorphosis into character is testament to his depth of talent. Penelope Ann Miller, as the long-suffering love of Carlito's life is dramatically and visually enchanting. The casting is perfect. The supporting cast superb, perfectly augmenting the film. The script is alive with literary devices, the story line(s), characters, dialogue, themes, sub-texts,etc., make this an almost endlessly watchable film. This is by far one of Pacino's best movies in his career and he should've definitely at least been nominated for an Oscar. Definitely worth to be in your collection if you're a fan of crime dramas or gangster flicks. A Puerto Rican ex-con pledges to stay away from his former drug dealing ways but finds himself being dragged back by his past connections and the naive machinations of his lawyer and best friend. Hoping to raise enough money to get away from New York, Carlito Brigante takes on the job of running a nightclub, renews an affair with a dancer but old associates and old instincts suck him back into a world of violence and mistrust.
Carlito's Way Quotes
There are no approved quotes yet for this movie.