Captivity
(2007)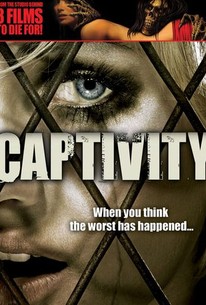 Movie Info
Vatel director Roland Joffé teams with screenwriters Larry Cohen and Joseph Tura to adapt an original story by Cohen concerning a fashion model (Elisha Cuthbert) and her chauffeur, who are kidnapped and held captive by a sadistic serial killer. Jennifer Tree (Cuthbert) is America's sweetheart; a top fashion model and ubiquitous cover girl who is adored by millions, Jennifer possesses all of the wealth and power that comes with being a natural, world-class beauty. Every girl wants to be Jennifer, and every man wants to have her -- one more than all others combined. That man has been lying in wait for precisely the right moment to strike, and when Jennifer makes the fateful mistake of stepping out on her own at a Soho charity event, he finally sees the opportunity to take possession of his most prized object. Drugged, taken, and placed in a cell, where she is forced to endure unspeakable mental and physical torture, Jennifer struggles against her twisted tormentor with every ounce of courage and fight that she has -- but will it be enough for her to endure should her captor continue to maintain the upper hand? A controversial film long before it ever went into wide release, Captivity caused quite a stir when graphic, unapproved ads for the film appeared on billboards and taxicabs in New York and Los Angeles. Though representatives from Captivity's releasing company After Dark Films claimed that the wrong materials were shipped to the printers and put up before they realized what had happened, public outcry was such that the MPAA saw fit to suspend the ratings process for the film. As a result, it quickly became apparent that Captivity would fail to procure an MPAA rating before its original target release date.
News & Interviews for Captivity
Critic Reviews for Captivity
Audience Reviews for Captivity
½
Almost didn't bother watching this as it was a one star movie in the TV guide. Decided to take a chance on it anyhow. Actually didn't think it was that awful. Certainly I saw the slight twist coming a mile off, but aside from that, a grim and dark little thriller and Elisha does a good job as a captured actress. Not sure i would watch it again - just the scene with the blender. Ugh! Pretty gory in places, but the saw movies are worse. Fine as a freebie tv watch.
Nicki Marie
Super Reviewer
A good but fairly routine bit of kidnap and torture horror. Nothing we haven't really seen before so there's no surprises here. Yeah there's the odd grisly moment and a somewhat guilty satisfaction seeing the arrogant, stuck-up model being made to squirm... all part of her moral lesson. Passabale stuff if you're in the mood, but not very memorable.
Elisha Cuthbert stars as Jennifer Tree a super model who has her face plastered all over the billboards for all to see.well one night while at a nightclub her drink is spiked,she wakes in a basement cell where she is physically and psychologically tortured by a hooded captor
Captivity Quotes
There are no approved quotes yet for this movie.