Captain Eo
(1985)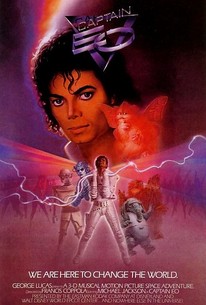 AUDIENCE SCORE
Critic Consensus: No consensus yet.
Movie Info
This 17-minute short staring Michael Jackson as Captain Eo follows a group of space travelers who are captured by the oppressive leaders of a remote planet and sentenced to 100 years of torture. The Captain responds with an impromptu rock concert that transforms the evil leaders into peaceful humanoids.
Critic Reviews for Captain Eo
There are no critic reviews yet for Captain Eo. Keep checking Rotten Tomatoes for updates!
Audience Reviews for Captain Eo
½
Amazing short 3D film which was only screened for about eight years at Epcot Centre in DisneyWorld, Florida, don't think you could see it anywhere else. Its basically 'Thriller' in space and just as cool, Jackson in one of his trademark jumpsuit style outfits, lots of buckles, belts, sparkle and this time its a nice white ensemble, much like something outta 'Star Wars'. Speaking of Star Wars Lucas was the writer for this and it does show in effects and alien designs, a cross between Muppets and cantina style aliens you may have seen in 'Jabba's' palace in 'Return of the Jedi'. There's also a nice 'Labyrinth' feel to one furry creature on Jacko's crew, its all very cute in a 'Flight of the Navigator' type way. The special effects are basic but still kinda decent, there's a cheap but believeable look to them that only certain Hollywood effects people could pull off. Only during the 80's would you get away with this, yet its aged so well. The 3D of course is the main thing and as I remember it was brilliant!! really made you duckn dive for cover at certain times (when the alien/elephant guy throws a can at the screen, good little moment right there as I recall). Makeup and costumes are excellent throughout as you would expect from all Jackson music videos, all the dancers look good and are on top form along with Jacko. The sets are obviously sets/soundstages but work well, nothing too original but it all looks magical enough. The makeup on Huston as 'The Supreme Leader' is really good and quite original in design, she looked like a 'Wheeler' from 'Return to Oz'. The music isn't as memorable as 'Thriller' or anything else Jacko has done but its the sci-fi film aspect you come to see really. Its just a one off special event that looks damn good and is a great mindless mini adventure, nowadays is admittedly slightly dated but still thoroughly enjoyable. Another classic music video/mini movie from one of the greatest performers ever. Roll on the Bluray release.
Phil Hubbs
Super Reviewer
½
Adds to the greatness of Michael Jackson. This was closed at Disneyland when I was a kid, so I didn't really remember it that well, but it was brought back after Michael Jackson's passing. Captain EO is an amazing short 3D film the great minds of Francis Ford Coppola and George Lucas behind it. Aside from having MJ, his dancing, and singing it it, this film has a good message behind it. Captain EO will never get old to me.
Eric Alvarez
Super Reviewer
"Captain EO" is a 3D short film that I got to see at Disneyland yesterday. It stars Michael Jackson as the title character as he and his ragtag space crew of aliens and robots head to a desolate planet to give the ruler (played by Angelica Huston is prostetic makeup) a gift that will change the world and the entire universe itself. The film is directed by, believe it or not, Francis Ford Coppola, and produced by George Lucas. This is totally something George would produce. "Captain EO" is like a mixup of "Star Wars", "Star Trek: The Next Generation", and "Thriller". The direction was good and the choreography in the musical number was impressive. Even for a 20-minute short, the story isn't that good. I wished it would've been a bit longer that way it can have a little more plot development. The 3D was okay. I like my 3D effects to hurdle their way toward my face and then go over my head. "EO"'s effects fly over your head or disappear before they go toward your face. The most diappointing part is they the film is still kind of blurry with your glasses on. Angelica Huston and MJ were good. Not great. Huston is a professional actress so we should expect her to impress. I loved her in "Ever After"! Michael Jackson is obviously a singer and entertainer and has very little acting experience. But this man knows how to act in front of a camera. That is if he isn't being interviewed about his whereabouts with little boys! Unless you've been living under a rock, Disney parks have resumed playing the film due to popular demand after Jackson's death. While this isn't the best short film I've seen, "Captain EO" is still fun for both young and old. "You ate it?!"
Bentley Lyles
Super Reviewer
Captain Eo Quotes
There are no approved quotes yet for this movie.