Capernaum (Capharnaüm)
(2018)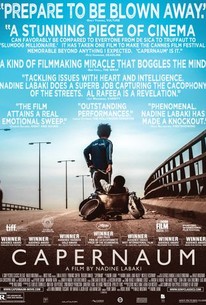 TOMATOMETER
AUDIENCE SCORE
Critic Consensus: Capernaum hits hard, but rewards viewers with a smart, compassionate, and ultimately stirring picture of lives in the balance.
Capernaum (Capharnaüm) Videos
Capernaum (Capharnaüm) Photos
Movie Info
Winner of the Grand Jury Prize at the Cannes Film Festival, Nadine Labaki's CAPERNAUM ("Chaos") tells the story of Zain (Zain al Rafeea), a Lebanese boy who sues his parents for the "crime" of giving him life. CAPERNAUM follows Zain, a gutsy streetwise child as he flees his negligent parents, survives through his wits on the streets, takes care of Ethiopian refugee Rahil (Yordanos Shiferaw) and her baby son, Yonas (Boluwatife Treasure Bankole), being jailed for a crime, and finally, seeks justice in a courtroom. CAPERNAUM was made with a cast of non-professionals playing characters whose lives closely parallel their own. Following her script, Labaki placed her performers in scenes and asked them to react spontaneously with their own words and gestures. When the non-actors's instincts diverged from the written script, Labaki adapted the screenplay to follow them. While steeped in the quiet routines of ordinary people, CAPERNAUM is a film with an expansive palette: without warning it can ignite with emotional intensity, surprise with unexpected tenderness, and inspire with flashes of poetic imagery. Although it is set in the depths of a society's systematic inhumanity, CAPERNAUM is ultimately a hopeful film that stirs the heart as deeply as it cries out for action.
News & Interviews for Capernaum (Capharnaüm)
Critic Reviews for Capernaum (Capharnaüm)
Audience Reviews for Capernaum (Capharnaüm)
A SENSE OF URCHIN-CY - My Review of CAPERNAUM (4 Stars) We've had so many films about impoverished children, from BICYCLE THIEVES to SALAAM BOMBAY! to SLUMDOG MILLIONAIRE to LION, that it's a genre unto itself. Call it the Street Urchin Film. The latest entry, CAPERNAUM, which roughly translates to CHAOS, comes from Lebanese director Nadine Labecki, along with her co-writers Jihad Hojeily and Michelle Keserwany and it follows Zain (Zain Al Rafeea), a 12-year-old child whose struggles as a homeless child on the streets of Beirut leads him to sue his parents for the crime of bringing him into this terrible world. Labecki borrows from the Italian neo-realism of Vittorio De Sica yet employs a more active camera and adds a lush score such as that heard in LION. Although imperfect in its storytelling, this winner of the Cannes Film Festival Jury Prize, packs an emotional wallop, reducing me to loud sobs at times. CAPERNAUM uses a trial as a framing device where a singularly focused, self-possessed Zain faces off against his parents (searing, passionate performances from Kawsar Al Haddad and Fadi Yousef), whose neglect and abuse of Zain and their large brood of children proves almost unbearable to witness. Labecki herself very capably plays Zain's prosecuting attorney. We know that Zain has stabbed someone, which has led to a prison sentence for the child, but we don't yet know the particulars. Having children affords the parents many social services they would not have otherwise, but they have no means to care for these children in the first place. Desperate for money, they resort to such actions sending Zain to various pharmacies to amass opiates, which they grind up and soak into clothing to be sold at a local prison. They also plan on marrying off their 11-year-old daughter Sahar (an incredible performance by Haita 'Cedra Izzaim) to their landlord's lecherous son. It's this particular event which sends Zain over the edge in a gut punch of a sequence in which he tries to escape with his sister. The filmmakers carefully set up their special relationship so well that their separation hurts. Zain retreats to the streets, landing at an amusement park where he meets an undocumented Ethiopian bathroom attendant named Rahil (Yordanos Shiferaw). Hiding from her employers the fact that she stows her infant son in a stall at work, Rahil sees in Zain an opportunity to have him babysit while she's at work in exchange for room and board. Naturally, tragedy intervenes, forcing Zain back onto the streets, but this time literally carrying a hungry infant in his little hands. Needless to say, CAPERNAUM takes you to hell on earth, but through it all, Zain maintains a ferocious stance. He bravely stands up to anyone who would try to harm him or the baby with an intense gaze or a string of expletives. It's simultaneously remarkable and devastating to witness. Shiferaw also gives a tremendous performance as an immigrant at the mercy of everyone she encounters. What happens to her while Zain and her child try to survive on the streets will also break your heart. Labecki has great storytelling abilities and a unique directorial style. Using non-actors whose lives closely resembled those of their characters, she had a script but allowed the actors to deviate from it and send her production off on many tangents. Shiferaw, an undocumented immigrant herself, was arrested while they were filming. Labecki shot a huge amount of footage to assemble the story here. Sometimes it feels like a documentary, but her instincts for shooting action sequences, birds-eye establishing shots or observant shots of Zain pulling the baby along on a skateboard with a pan attached to it, show dexterity way beyond the expected cinéma vérité style often used in films like this. I think the framing device detracts a bit from the impact this story could have had if it were to have been told linearly, but it's a minor gripe in a film with so much empathy and respect for its subjects. A year ago, I would have said something along the lines of, you won't believe what a child has to go through in this film. Now, however, with children suffering in cages within our borders, it's not such a stretch and CAPERNAUM articulates the chaos with such a timely urgency. By the time it reaches its fascinating, bittersweet conclusion, you may find yourself conflicted. Clearly that's Labecki's intention with this angry, despairing, yet oddly optimistic little gem.
Glenn Gaylord
Super Reviewer
Zain Al Rafeea is a terrific revelation in this powerful and profoundly devastating look at the miserable existence of a poor child who, like many others, deserved so much more from life - and I'm pretty sure his eyes of infinite sadness will haunt me for the rest of my life after this.
Carlos Magalhães
Super Reviewer
Capernaum (Capharnaüm) Quotes
There are no approved quotes yet for this movie.