Cannibal! The Musical (Alferd Packer: The Musical)
(1996)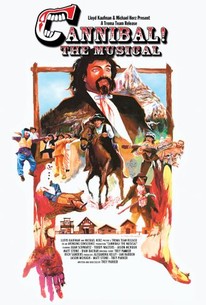 Movie Info
Set in 1873, this musical focuses on Alfred Packer who is accused of cannibalizing members of his West-traveling party. Japanese people pretend to be Indians, a cyclops's eye spurts pus, and Alfred has a kung-fu fight with a fur trapper named Frenchy in this surprisingly funny parody.
Critic Reviews for Cannibal! The Musical (Alferd Packer: The Musical)
Audience Reviews for Cannibal! The Musical (Alferd Packer: The Musical)
½
From a very young collaboration between pre-famous Trey Parker and Matt Stone, Cannibal is the most amateur venture I have seen of them so far. This is the best indicator of their future success with the Broadway hit The Book of Mormon, and involved little to no South Park voices, which crop up in their later film, BASEketball. Still, though the graphics are student film project specific, and the sound is echoey in the best of circumstances, I thoroughly enjoyed the irregularity of the humor, and the open gross out makeup, including axes in the face, limbs being eaten, and frost bitten appendages. For a student film (Parker worked on this during his time at the University of Colorado) it's really professionally cast, the effects aren't altogether sloppy, and the plot, though sporadic near the end, actually has a resounding action, and is historically accurate though stretched to involve dark comedy. The songs themselves are for the most part really catchy. The title theme is a lampoon of Oklahoma's "Oh What a Beautiful Morning" and the score weaves throughout, though there is a hint of synth leftover from the eighties. My personal favorite was "Let's Build a Snowman" which you can watch on Youtube without ruining the rest of the movie for yourself, and is probably the singular most hilarious part. Very kooky, and not anything you could expect, sit back, build a snowman, and enjoy.
Spencer S.
Super Reviewer
Kevin Cookman
Super Reviewer
½
Occasionaly hilarious specially in its ending but nothing memorable really, A disappointment since my expectations were too high
Cannibal! The Musical (Alferd Packer: The Musical) Quotes
There are no approved quotes yet for this movie.