Camp
(2003)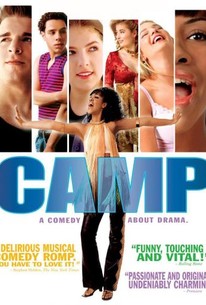 Movie Info
Tony-nominated actor Todd Graff makes his directorial debut with the musical comedy Camp, featuring an ensemble cast of newcomers. Guitarist Vlad (Daniel Letterle) attends Camp Ovation, the summer theater camp for budding actors, dancers, and musicians. Finding himself to be one of the only hetero boys around, he soon befriends nice girl Ellen (Joanna Chilcoat). Meanwhile, openly gay Michael (Robin de Jesus) develops a crush on him. This sparks dramatic confrontations among fellow campers Jenna (Tiffany Taylor), Jill (Alana Allen), and Fritzi (Anna Kendrick). The whole camp is run by Bert Hanley (Don Dixon), a washed-up Broadway songwriter who decides to enlist the help of his young campers to put together a new production. Features musical numbers by Stephen Sondheim and the Rolling Stones, as well as original tunes from composer Michael Gore and lyricist Lynn Ahrens. Camp was nominated for the Grand Jury Prize at the 2003 Sundance Film Festival.
Audience Reviews for Camp
½
Cast: Don Dixon, Anna Kendrick, Daniel Letterle, Joanna Chilcoat, Robin de Jesus, Steven Cutts, Vince Rimoldi, Kahiry Bess, Chris Spain, Sasha Allen, Alana Allen, Egle Petraityte, Dequina Moore, Stephen DiMenna, Tiffany Taylor, Stephen Sondheim Director: Todd Graff Summary: Camp Ovation is a performing arts summer camp where talented kids come to spread their wings. Among them are Vlad (Daniel Letterle), a "bona fide straight boy"; Ellen (Joanna Chilcoat), a megastar with huge insecurities; and Michael (Robin de Jesus), who's struggling with his sexual identity. Their director, Bert Hanlon (Don Dixon), is a washed-up has-been -- but the kids have at least as much to teach him as he has to teach them. My Thoughts: "I was a bit surprised on how bad some of the acting was considering what the film is about. Although it got a bit boring and definitely had quite a few cheesy moments, I did find some of the movie funny. Anna Kendrick doesn't have much screen time, but you can tell that she out shined them all in the acting and it's no surprise she's doing so well now. Although the film isn't great it does tread on some serious issues for teens and their relationships with their parents. I felt awful for Michael and the one who had her mouth wired shut (forgot her name). I won't deny that there is talent in the movie, it's just the star doesn't shine as bright for some then it does for the others. The film in the end is forgetful."
♥˩ƳИИ ƜѲѲƉƧ♥
Super Reviewer
½
I was rather bored watching it, but some of the cast has got some awesome talent. Letterle, Chilcoat, and Kendrick have amazing voices. But the movie was totally worth getting through to the end to see, I believe it was, Taylor sing at the end. That girl was SPECTACULAR!
Leigh Ryan
Super Reviewer
½
This looked great on the previews. I was surprised I didn't actually enjoy it all that much. Acting okay, but not that interesting.
Nicki Marie
Super Reviewer
Camp Quotes
There are no approved quotes yet for this movie.