Calvary
(2014)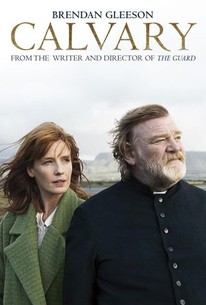 TOMATOMETER
AUDIENCE SCORE
Critic Consensus: Led by a brilliant performance from Brendan Gleeson, Calvary tackles weighty issues with humor, intelligence, and sensitivity.
Movie Info
CALVARY's Father James (Brendan Gleeson) is a good priest who is faced with sinister and troubling circumstances brought about by a mysterious member of his parish. Although he continues to comfort his own fragile daughter (Kelly Reilly) and reach out to help members of his church with their various scurrilous moral - and often comic - problems, he feels sinister and troubling forces closing in, and begins to wonder if he will have the courage to face his own personal Calvary. (c) Fox Searchlight
News & Interviews for Calvary
Critic Reviews for Calvary
Audience Reviews for Calvary
For a Catholic priest in modern day small town Ireland life is no imagined bed of roses. The locals, some friendly and some not to the Church in general, are not the simpletons of days past, bestowing respect and awe simply for form's sake, oh no. They're a cynical lot and proud to let our priest know about it. And he's got a daughter from before playing at suicide. And there's somebody out to kill him. What's a priest to do? Gleeson, like a laborer with a too heavy load trudging uphill, let's us know with grunts and grimace's. By the time we reach the top of the hill, we are at home in the confessional with him. A superior work by a old hand at it.
Kevin M. Williams
Super Reviewer
½
Although the very idea that a Catholic priest in Ireland would face such increasing rejection does not entirely convince me, this is a provocative and ironic drama centered on a goodhearted but undeniably hypocritical man who represents an institution that has always been a source of pain to so many people.
Carlos Magalhães
Super Reviewer
The first collaboration between director John Michael McDonagh and Brendan Gleeson was 2011's hugely original and hilarious Irish film "The Guard" which delivered one of Gleeson's most memorable roles and showed that McDonagh shared a similar offbeat approach to his brother Martin's "In Bruges". Martin went on to make the misjudged step to the U.S. with "Seven Psychopaths", meanwhile John wisely decided to remain in Ireland and produce the best film of them all. With taking confession, Father James Lavelle (Brendan Gleeson) learns that a member of his church was abused by another priest from the time he was 7 years old. Now that that priest has died, the unknown confessor intends on retribution by killing Father James in a week's time. Uncovering the person proves to be a difficult task, though, as there are a number of locals who all have their own reasons to hate the Catholic Church. Calvary: 1. (Art Terms) a representation of Christ's crucifixion, usually sculptured and in the open air 2. (Literary & Literary Critical Terms) any experience involving great suffering. The definition of "Calvary" is only the starting point on how perfectly McDonagh handles his affairs. The title itself is perfectly suited to the films themes as our protagonist, Father James is to be subjected to his own form of crucifixion. He's to atone, not for his own sins, but for those of another simply because killing a good priest will make more of a statement than killing a bad one. And so begins the story of a man forced to confront his own mortality. As much as this seems like a foreboding and sombre journey (which it is to an extent) it's also a poetic and satirical one. It's, at once, a commentary on faith and compassion while managing a blackly comic absurdity in the vein of the hilarious Irish, parochial comedy series, "Father Ted". It also teases us with a whodunnit style murder mystery where each of the colourful cast of characters are hinted at being Father James' possible killer. The skill in this, is that what we hear at the beginning of the film is still only a threat yet we suspect each of the parishioners as if the murder has already happened - trying to decipher who the culprit is as the priest finds himself in a Manichaean conflict between good and evil. It's the finely tuned balance of downbeat existential drama and off-the-wall gallows humour that's most impressive about McDonagh's second feature. The writing is sharp and well judged as are a whole host of supporting characters; from the suffering Kelly Reilly, the jovial Chris O'Dowd, to the mephistophelian Aidan Gillen and the salacious Dylan Moran. There's even a rare appearance from the great character actor M. Emmet Walsh. Anchoring it all, though, is a toweringly solid performance from the always reliable Gleeson. As a late starter to acting (aged 34), Gleeson has delivered some outstanding work but this is arguably his best work yet, and that's saying something. He's a soulful, avuncular character that possesses a quiet power and tolerance of the wayward, rural community mentality. Such a mentality is reflected in the environment and Larry Smith's sublime cinematography captures it in all it's stark beauty with a wonderfully fitting music score to compliment the images. Quite simply, no-one puts a foot wrong. Touted as the second part of a planned "suicide trilogy" between McDonagh and Gleeson and if the third instalment is even half as good as this then we are in for yet another treat. "Calvary" has certainly received it's fair share of plaudits and may well feature in many "best of" lists at the end of the year. There's no doubt that it'll make mine. An absolutely solid and thought provoking piece of filmmaking. Mark Walker
Mark Walker
Super Reviewer
Calvary Quotes
There are no approved quotes yet for this movie.