Caligula II - Messalina, Messalina
(1977)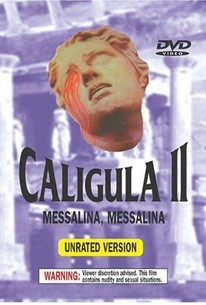 AUDIENCE SCORE
Critic Consensus: No consensus yet.
Movie Info
This slapstick Italian sex comedy actually looks far more expensive than it really is, as it used the sets left over from the 1980 spectacular Caligula. It can't quite make up its mind, though, if it's a comedy (the emperor Claudius is a doddering, stuttering, impotent old fool), a sex film (with much nudity and several orgy scenes), or a slasher/gore picture (in a scene where soldiers invade an orgy and starting dismembering and decapitating everyone in sight -- which, incredibly, is treated as a slapstick scene!), and winds up being not much of anything. ~ Brian Gusse, Rovi
Critic Reviews for Caligula II - Messalina, Messalina
There are no critic reviews yet for Caligula II - Messalina, Messalina. Keep checking Rotten Tomatoes for updates!
Audience Reviews for Caligula II - Messalina, Messalina
½
If you thought the Tinto Brass movie about loony Roman emperor Gaius Julius Caesar Augustus Germanicus (better known to most as Caligula) was shocking, wait 'til you see what seasoned sleaze merchant Joe D'Amato does with the story. Doing away with the kind of artistic pretencions that occasionally spoilt the better known 1979 take on the tale, old Joe (here working under the pseudonym David Hills) concentrates his energy on delivering tons of nudity and perverted sex (softcore and hardcore), some truly nasty gore, and even a little repellent animal action à la his infamous Emanuelle in America. The result may not be as visually impressive as Tinto's film, and it certainly hasn't got the novelty value of such a renowned cast (no Dame Helen Mirren or Peter O'Toole in this one), but it does take the sleaze to an even higher level. D'Amato's favourite leading lady, Laura Gemser, plays Miriam, a slave-girl who vows to kill Caligula (David Brandon) after he rapes and murders her best friend. Securing a place as a whore at one of his lavish orgies, she manages to become the mad emperor's lover, hoping to strike when his guard is down (and his toga is up). But as she spends more time with crazy Cal, Miriam's feelings begin to change... With Caligula II: The Untold Story, Italy's prolific master of exploitation manages to successfully meld his passion for porno with an interesting plot-something I felt he failed to do with Emanuelle in America and Porno Holocaust, the other XXX classics of his that I've had the dubious pleasure of viewing. However loosely based on history D'Amato's film is, it is still worth a watch simply because the central character-a tyrant who believed himself a god-is so fascinating. Known for his extravagance, decadence, and cruelty, Caligula is the perfect subject for a sensationalist movie, and the makers of The Untold Story certainly do him proud. The following scenes have been unflinchingly filmed for your viewing pleasure: a would-be assassin has his tongue cut out and his tendons slashed; vestal virgins are 'deflowered-by-dildo' and then taught the art of fellatio; sex-mad participants at an orgy (including a dwarf, who gets in on the action) witness a woman pleasuring a horse, and a brutal gladiator fight which results in blood spraying over the eager onlookers; a baby is killed by being thrown against a wall; and, perhaps worst of all, several men are fully impaled on spears (which emerge from their chest, having been inserted right up their ass!). Both sickening and sexy, Caligula II: The Untold Story is uncompromising movie-making which is certain to appeal to fans of sleazy exploitation and extreme cinema.
Cassandra Maples
Super Reviewer
Caligula II - Messalina, Messalina Quotes
There are no approved quotes yet for this movie.