Caesar Must Die
(2013)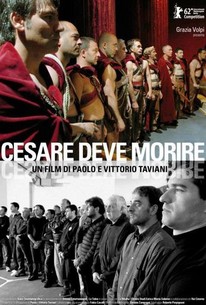 Movie Info
Winner of the Golden Bear at the Berlinale, Paolo and Vittorio Taviani's Caesar Must Die deftly melds narrative and documentary in a transcendently powerful drama-within-a-drama. The film was made in Rome's Rebibbia Prison, where the inmates are preparing to stage Shakespeare's Julius Caesar. After a competitive casting process, the roles are eventually allocated, and the prisoners begin exploring the text, finding in its tale of fraternity, power and betrayal parallels to their own lives and stories. Hardened criminals, many with links to organised crime, these actors find great motivation in performing the play. As we witness the rehearsals, beautifully photographed in various nooks and crannies within the prison, we see the inmates also work through their own conflicts, both internal and between each other. -- (C) Adopt
News & Interviews for Caesar Must Die
Critic Reviews for Caesar Must Die
Audience Reviews for Caesar Must Die
½
I saw this at the 2013 Cleveland International Film Festival. I loved it! It is partly in color and partly in black and white. It is not a straightforward production of Julius Caesar. It is about the theater process. The actors are real-life incarcerated Italian prisoners. We end up seeing an abbreviated version of the play, since time is spent reading between the lines. We watch some of the auditions. We watch the rehearsals. We watch a couple of the leads as they privately memorize their lines and sort out their characters' motivations. We watch the whole prison get excited for the magic of theater. And then in color, we see bits of the performance staged for the public. The aftermath is used as bookends, and while it doesn't make much sense at the start, it is heartbreaking at the end as we observe the impact theater had on these men who still face confinement. It is well shot and there are moments of tension as well as comedy. We learn in the closing credits that Giovanni Arcuri, who plays Caesar, and Cosimo Rega, who plays Cassius, have both written books. Cosimo was apparently profoundly affected by the experience. Salvatore Striano, who is excellent as Brutus, has since continued acting on stage and in four other feature films.
Byron Brubaker
Super Reviewer
"Caesar Must Die" is not the name of a "Spartacus" spin-off.(which I'm also not entirely ruling out by the way) Rather, it is a riveting production of Shakespeare's "Julius Caesar," which is about power and betrayal, performed by a group of convicted criminals in a maximum security prison in Italy.(Of those we meet in the auditions, only a couple are not in their 40's, thus implying these are lifers in more than one sense.) This is not just a filmed stunt, as the claustrophobic environs of the prison are woven seamlessly and subtly into the performance itself, filmed in black and white. Ostensibly, these are just rehearsals which end up taking on a life of their own, as work on the theatre continues. Otherwise, the only segments in color are the play's ending and its triumphant aftermath. As much as the convicts put into the play via their unique interpretations, it could also be said that they get an equal amount out of the experience, as one comments at the end of the movie that after realizing that there is such high art, his imprisonment has become that much harder to bear.
½
An interesting docufiction that is both an intelligent meta-narrative feat and an important record of a real production - the staging of Shakespeare in a prison. But above all, it shows how Art can have a transforming impact on even the most unexpected of people.
Carlos Magalhães
Super Reviewer
Caesar Must Die Quotes
There are no approved quotes yet for this movie.