Cadillac Man
(1990)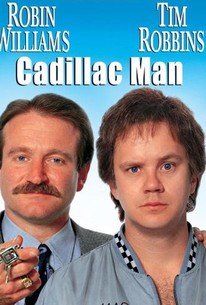 Movie Info
Robin Williams stars in this oddball comedy about a fast-talking car salesman who is down on his luck and in over his head until an extreme situation forces him to use his sales skills to save lives. Joey O'Brien (Williams) is the stereotypical car salesman: enterprising, aggressive, and desperate to make enough money to spend on his high-maintenance girlfriends. But suddenly the pressure is really on: he owes money to the mob, his ex-wife is nagging him about not spending enough time with their teenage daughter, and if he doesn't sell at least a dozen cars by the time the big sale is over on Saturday, he's going to lose his job. As Joey attempts to placate several potential buyers, his day is interrupted by Larry (Tim Robbins), the insanely jealous husband of dimwitted showroom receptionist Donna (Annabella Sciorra), who's been having an affair with someone who works at the dealership. With the police surrounding the place, his job (and life) on the line, Joey realizes that it's up to him to use his wits to persuade Larry -- who's not even sure what he wants out of the situation -- not to kill anyone.
Critic Reviews for Cadillac Man
Audience Reviews for Cadillac Man
½
Robin Williams stars as the smooth talking, philandering, car salesman Joey O'Brien in the outrageously funny comedy Cadillac Man. When a jealous husband takes his car dealership hostage Joey has to summon all of his negotiating skills in order get everyone out alive. Co-starring Tim Robbins, Fran Drescher, Zack Norman, and Lori Petty, the cast is quite good. However, it's Williams' charisma, and chemistry with Robbins, that really carries the film. Yet there are some script problems, as it's packed with subplots that don't add much to the overall story. Still, the comedy is well-written and keeps the film moving. Cadillac Man has a few issues, but it still comes through with plenty of laughs.
Dann Michalski
Super Reviewer
Best described as a comic version of Dog Day Afternoon. That doesn't really work. Williams has done a lot worse though...
This movie is average, but Robin Williams' performance and moments of brilliance, too many genres are thrown in for the film to cope.
Dean McKenna
Super Reviewer
Cadillac Man Quotes
There are no approved quotes yet for this movie.