Cadence
(1989)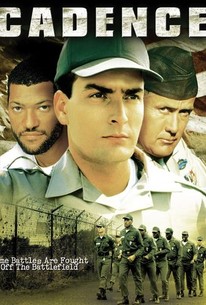 Movie Info
When a young Caucasian military man is thrown into an all African-American barracks for punishment, he slowly earns the respect of his peers while they all are forced to contend with the prejudicial acts of a racist sergeant. Charlie Sheen, Laurence Fishburne, Martin Sheen (who also directed) and others appear in this well-intentioned drama.
Critic Reviews for Cadence
Audience Reviews for Cadence
I finally saw "Cadence" while I was visiting my family in Texas awhile back and it was a great movie. Charlie Sheen has to go to military camp for 90 days after hitting a cop. Martin Sheen plays the role of the sergeant at the base. "Cadence" features one of both Charlie's and Martin Sheen's best performances in my opinion. Charlie Sheen must survive the 90 days in the camp in order to get out alive. He has to go to Vietnam afterwards. This movie will keep you interested while you watch to see if Franklin Bean, (Charlie Sheen), can learn to get along with his black roomates and how he will put up with the sergeant, (Martin Sheen), while he's there. You will remember "Cadence" for the performances that all the actors put on and some of the other sequences such as getting the windmill to work. But you'll remember it even more for the song "End of My Journey" after you hear it at the end of the movie. There's no doubt that it's the best Christian song I've ever heard. If you like movies that deal with the Army, you'll like "Cadence." In my opinion, it's one of the best movies of the decade and one movie you can't miss. NOTE: That was my Amazon review from the year 2000. Yet another rather overlooked great by Sheen, along with The Chase and to a lesser extent, Beyond The Law.
Jason Owens
Super Reviewer
Well-meant film about the evils of racism is skewed by director-star Martin Sheen's overly sympathetic portrait of a prejudiced stockade commander who attempts to use newcomer Charlie Sheen to spy on his cell mates, all of whom are black. More notable for good intentions than dramatic power.
Dean McKenna
Super Reviewer
Cadence Quotes
There are no approved quotes yet for this movie.