Ciao Maschio (Bye Bye Monkey)
(1978)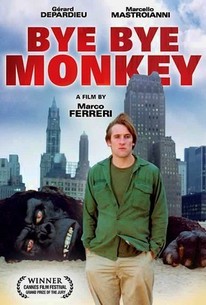 Movie Info
Lafayette (Gerard Depardieu), a young-ish misfit Frenchman and Nocello (Marcello Mastroianni), an older misfit Italian, live in a run-down section of New York City and are friends. Lafayette works for Flaxman (James Coco), an excitable antiquarian who owns and runs something called the "Roman Museum," by means of which he upholds the standards of a former age. Lafayette also works for a women's lib group, which one day decides to "rape" him to see how the shoe fits on the other foot. Rather than being much bothered, Lafayette starts a liaison with the woman who actually had sex with him. In this rambling tale, these men are shown to have great difficulty enduring intense emotions, and the situations that arise force them to confront this difficulty repeatedly. ~ Clarke Fountain, Rovi
Critic Reviews for Ciao Maschio (Bye Bye Monkey)
All Critics (5) | Fresh (3) | Rotten (2)
The film's true interest resides, above all, in the effective scenes of dark humor and in the general idea of the script, which is surely Marco Ferreri's most ambitious one to date. [Full Review in Spanish]
Ferreri's first English-language film... is more of a collection of disjointed ideas than an actual story.
A hopelessly irrelevant, downright interminable piece of work...
Audience Reviews for Ciao Maschio (Bye Bye Monkey)
½
"Bye Bye Monkey" starts with Lafayette(Gerard Depardieu) waking to a New York City being fumigated for rats. That's not all as he also has trouble selling fake leopard skin to Flaxman(James Coco) for his wax museum. Lafayette becomes a guinea pig for the women's theatre group where he works the lights to determine whether a man can be raped. Angelica(Gail Lawrence) demonstrates in the affirmative. At first incensed, he calms down enough to inspect King Kong's carcass where Luigi(Marcello Mastroianni) finds a baby monkey which he gives to Lafayette for safe keeping because of his allergies. I guess if one were so inclined, one could think of "Bye Bye Monkey" as a quasi-unofficial sequel to the 1976 remake, especially considering the body of the beast in the shadows of the World Trade Center.(I'd also work a Dave Kingman reference in here but he was on the Cubs in 1978. Darn it.) What is really important about "Bye Bye Monkey," a provocative and affectionate black comedy, is that it is about the little people on the ground going about their lives as tumultous events happen above them, most of whom like King Kong are from far-off lands. It is the rats who are native to New York and will be here long after we are all gone. In this topsy-turvy world, Lafayette occasionally takes on animal characteristics and, as Angelica points out, is more of a mother than a father to the baby monkey.
An askew world view ends on a hopeful note. Mastroianni and Depardieu didn't know what it was all about either.
Stefanie C
Super Reviewer
Ciao Maschio (Bye Bye Monkey) Quotes
There are no approved quotes yet for this movie.