But the Flesh Is Weak
(1932)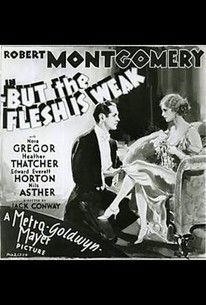 AUDIENCE SCORE
Critic Consensus: No consensus yet.
But the Flesh Is Weak Photos
Movie Info
Ivor Novello's elegant stage play +The Truth Game was the source for MGM's But the Flesh is Weak. C. Aubrey Smith and Robert Montgomery star as Florian and Max, father-and-son fortune hunters whose ethics and integrity wax and wane throughout the picture. Eventually, Florian outsmarts himself and ends up broke and heavily in debt. To save his father from committing suicide, Max agrees to marry wealthy Lady Joan (Heather Thatcher). Will he be saved from this rash act in time by his true love, poor but proud widow Rosine (Nora Gregor)? In cold print, But the Flesh is Weak may seem like a stark tragedy, but is in fact a witty, polished polite comedy.
Critic Reviews for But the Flesh Is Weak
There are no critic reviews yet for But the Flesh Is Weak. Keep checking Rotten Tomatoes for updates!
Audience Reviews for But the Flesh Is Weak
What an awful film this turned out to be. In the beginning it held my interest as Robert Montgomery is charming and quite smooth, and it's a bit of a role-reversal to have him (and his father) playing gold-diggers, living bachelor lives and unapologetically seeking rich women. "Love doesn't last, but money does", as his father so charmingly puts it with his English accent. It soon gets seriously annoying, however, as Montgomery's character aggressively stalks a rich socialite despite being turned down over and over again. At one point when he's seemingly left her bedroom after having scaled an ivy-covered wall to get in there and then been told to leave, he crawls out from behind her bed after her, like a spider. It's an attempt at comedy and it's played from there as comedy, but it's seriously, seriously creepy, and actually startling when he does it. What's actually comical is the film trying to show him in an altruistic light as he professes genuine love for her (uh, yeah...right), and then attempts to marry a different rich woman to help his father out of a giant gambling debt. What a guy. This is the kind of film that cannot have helped women at the time - the message is "just keep badgering her until she says yes", or more simply, "no means yes". What's especially insidious is he's the suave hero, the nice guy, not some outwardly disturbed creep. I thought I had seen enough but carried on until the end, when I was treated to him getting possessive and angry because she dances with another after he's left her (gosh the nerve!), and then slaps her, exclaiming, "You needed that, you silly worthless baby." Then painfully, painfully, painfully we see her chasing after him as he drives away, in full control of her, the culmination of which is her telling him "I didn't know [you loved me] until you hit me" before kissing him. Jesus, I wanted to throw up. It's a feel-good "happy ending" for a movie fill with misogyny. Oh, and later, to top it off, I later read that Montgomery helped the Red Scare movement by testifying as a friendly witness before the House Un-American Activities Committee in 1947. Great.
Antonius Block
Super Reviewer
But the Flesh Is Weak Quotes
There are no approved quotes yet for this movie.