The Burning Plain
(2009)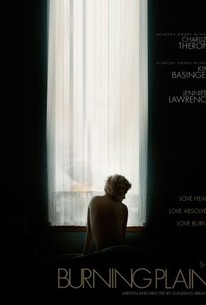 Movie Info
Sylvia's cool, professional demeanor masks the sexually charged storm within. When a stranger from Mexico confronts her with her mysterious past, she is launched into a journey through space and time that inextricably connects her to disparate characters, all of whom are grappling with their own romantic destinies. In Mexico, a young motherless girl, Maria, lives happily with her father and his best friend until a tragic accident changes it all. In the New Mexico border town of Las Cruces, two teenagers, Mariana and Santiago, find love in the aftermath of their parents' sudden deaths. In an abandoned trailer, a housewife, Gina, embarks on a passionate affair that will put Sylvia and the others on a collision course with the explosive power of forbidden love.
News & Interviews for The Burning Plain
Critic Reviews for The Burning Plain
Audience Reviews for The Burning Plain
The only reason to watch this film is the remarkable performance by Jennifer Lawrence, who recently garnered a Golden Globe nomination for another film. She captures a perfect balance between the impetuousness of youth and the world-weary bitterness of a daughter forced to grow up too soon, and late in the film she has an uninhibited crying scene that makes Viola Davis's part in Doubt look like it's as guarded as Russell Crowe. As far as the story is concerned, I think of Kurt Vonnegut's "rules" for writing. He effectively said, "Don't hide anything from the audience. Fuck suspense." He also said, "Flannery O'Connor violates all of these rules and still writes effective fiction." Hi ho. Writer/director Guillermo Arriaga would have done well to remember Vonnegut's "rules" because for much of the movie, we feel like the episodic scenes we're presented with are too disconnected in theme and substance to amount to anything interesting. It turns out that the stories are connected, but by the time we find this out, we've stopped caring. Overall, catch a rising star in Lawrence but to hell with the rest of the film.
Jim Hunter
Super Reviewer
½
The first film by Guillermo Arriaga since his public breakup with professional partner Alejandro González Iñárritu, a collaboration that rendered such lauded projects as Amores Perros, 21 Grams and Babel. Fire is a recurring theme that appears all through the plot of The Burning Plain. Like in other stories by Mexican-born writer Arriaga, the story follows a non-linear narrative. The strength of the film is found in its female cast: from Charlize Theron (who also executive-produced) and Kim Basinger to newcomers Tessa Ia and Jennifer Lawrence, the latter giving the best performance in the film as "Mariana". Lawrence is already gathering considerable Oscar buzz for her role in another drama, Winter's Bone. Also of note is the cinematography by Robert Elswit (There Will be Blood), which is particularly stunning when showing the chilly Portland shore. Guillermo Arriaga's one and only big mistake is his inability to really capture the essence of Mexico and its people which, frankly, is a mistake no Mexican filmmaker should make. Most of the Mexican (or Mexican-American) characters that appear in the film feel fake and artificial, even stereotypical, which isn't something unheard of in the world of cinema, but one would definitely expect more authenticity from a director that's portraying his own culture.
Fernando Rafael Quintero Castañeda
Super Reviewer
This was really good. Charlize Theron is such a great actress. It took me a little while to figure out who was who in this movie, cuz they were jumping around quite a bit from present to past and back. It all came together quite nicely, though, and made for one heck of a story with a really nice ending.
Cynthia S.
Super Reviewer
The Burning Plain Quotes
There are no approved quotes yet for this movie.