Bulletproof Monk
(2003)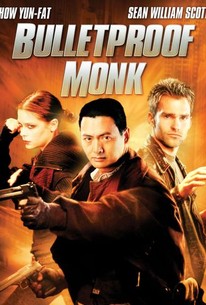 TOMATOMETER
AUDIENCE SCORE
Critic Consensus: Venerable action star Chow Yun-Fat is the only saving grace in this silly action flick that more often than not resembles a commercial in style.
Movie Info
A monk and a pickpocket become unlikely allies in this action adventure story. Sixty years ago, a nameless monk (Chow Yun-Fat) was appointed the guardian of a mysterious scroll that grants remarkable powers to those who possess it. After six decades of traveling the world to protect the scroll, the monk must find someone new to assume the responsibility, but as fate would have it, the new caretaker turns out to be Kar (Seann William Scott), a scruffy and distinctly non-enlightened petty thief living in San Francisco. As the monk attempts to educate Kar in the powers and responsibilities of the scroll and the ways of a monk's life, they discover they have a rival for the possession of the valuable scroll. As Kar and the monk fend off their mysterious adversary, they are aided by Bad Girl (Jaime King), a beautiful Russian mob affiliate with amazing martial arts skills and a vested interest in keeping the scroll in virtuous hands. Bulletproof Monk was based a comic book series published in 1999; Chow Yun-Fat's frequent collaborators John Woo and Terence Chang produced.
News & Interviews for Bulletproof Monk
Critic Reviews for Bulletproof Monk
Audience Reviews for Bulletproof Monk
½
I felt a stabbing pain watching this movie. I had dark hole expectations watching it and I was still dissapointed. Bulletproof Monk is the biggest Americanisation of the eastern action movie i've ever seen. Seann William Scott has only ever been funny in Role Models. Yung kicks ass but unfortunately the rest doesn't. Especially the ridiculous non-existent plot.
Directors Cat
Super Reviewer
What a weird movie, it's a modern kung-fu fantasy/comedy. While that's pretty brave to attempt to make that plot work, it just wasn't executed properly and it just didn't have enough personality. I think what makes it work the most is the buddy cop antics between Seann William Scott and Chow Yun Fat, aside from that it falls pretty flat.
Conner Rainwater
Super Reviewer
½
I really enjoyed this corny action movie, and I wish that it was longer than it was, and improved on it's little flaws, because I really wanted to love this one, but I still really liked it!
Bulletproof Monk Quotes
There are no approved quotes yet for this movie.