Bugsy Malone
(1976)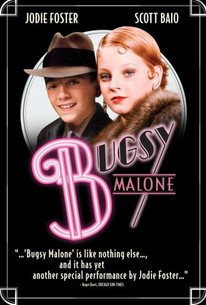 Movie Info
Here's the basic "shtick" of Bugsy Malone: it's a gangster picture enacted by children. Acted out before scaled-down sets, the film details the career of Bugsy Malone (Scott Baio), who rises to the top of the criminal ladder in 1920s New York. Whenever gunfire is called for, the kiddie crooks substitute whipped cream for bullets. Paul Williams contributes several songs, which are performed by adult singers and lip-synched by the pint-sized actors. The cast includes John Cassisi as diminutive Capone clone Fat Sam, and then-13-year-old Jodie Foster as the sultry nightclub thrush Tallulah.
Critic Reviews for Bugsy Malone
Audience Reviews for Bugsy Malone
Two rival gangsters battle for turf and a new, strategically important armament during the Prohibition Era -- a cliche if the entire cast weren't children. It's a great idea: children playing the parts of hard-hearted gangsters implies that many of plots of the classic gangster films depend upon adults' childish behavior. The idea spoofs gangster movies perhaps in the way that Prizzi's Honor intended, and making the film a musical only adds to the film's conceit. And the film deals with gangster violence creatively: director Alan Parker couldn't have a child version of Joe Pesci stabbing the hell out of somebody with his mother's kitchen knife without significant ethical problems with the depiction of children and violence. So he had the tommy guns fire cream pies. Genius. And fun. The problem, however, is that the plot falls apart in the second act. Fat Sam is losing his turf war, and he ends up recruiting the lower classes to stockpile his army, but these characters come out of nowhere. Blousey - a character who would've been better played by Jodie Foster - and Bugsy's courtship fails to compel because her rejection of him comes off as entitled and bitchy. Also, the music is all lip syched with the voices provided by adults. This is the beginning of the film dropping its intelligent conceit, a denigration that is made complete during the final shootout. By the end of the film, it has broken all its own rules, and I couldn't help but feel quite disappointed. Overall, it's a great idea, but a great idea can only carry a film so far.
Jim Hunter
Super Reviewer
½
A smartly made musical set at the time of absolute depression. All the cast are children and Bugsy Malone is one of the few films in which child actors I believe should win or at least be nominated for great acting achievment awards.
Directors Cat
Super Reviewer
Good kiddie-gangster-musical flick as what I see is how do we show killing and brutal acts of violence - only bring out the custard pies and cream-firing splurge guns of course! Genius! This is a spoof of gangster films and film noir where all the roles of the gangsters, flappers, bartenders and hitmen are played by child actors at over aged 12. The outstanding presence though is that of post-Taxi Driver Jodie Foster, who swans through the film as showgirl Tallulah looking vastly more experienced and world-wise than her amateur co-stars. Writer-director Alan Parker should be applauded for creating such an accessible tongue-in-cheek take on the topic that usually makes for the murkiest, most un-child-friendly film. Definitely enjoyable for the young and old alike, and perfectly played out in period costume and setting.
Dean McKenna
Super Reviewer
Bugsy Malone Quotes
There are no approved quotes yet for this movie.