Bug
(2006)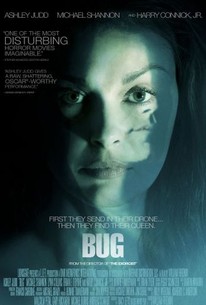 TOMATOMETER
AUDIENCE SCORE
Critic Consensus: Disappointing resolution aside, Bug uses its claustrophobic setting and cinéma vérité camerawork to tense, impressive effect.
Movie Info
A lonely waitress with a tragic past, Agnes rooms in a run-down motel, living in fear of her abusive, recently paroled ex-husband. But, when Agnes begins a tentative romance with Peter, an eccentric, nervous drifter, she starts to feel hopeful again--until the first bugs arrive.
News & Interviews for Bug
Audience Reviews for Bug
My high rating comes from the film's direction and the acting rather than the film's story. Director William Friedkin sets up an insane scenario for the actors and allows them to one up each other until the end. Basically, Michael Shannon and Ashley Judd are acting their hearts out in this tale claustrophobic nightmare. Bug is a dark story that may seem dumb to some but brilliant to others.
'Bug' concerns Agnes White (Ashley Judd), a lonely woman living in a motel room who meets Peter Evans (Michael Shannon), an unnerving but apparently good willed war veteran. However Peter soon has explosions of mania, claiming conspiracy and evil government corruption. The film is a disturbing look at total madness and paranoia, a look at how the disillusioned reason with themselves until they are driven to total and utter insanity. The final thirty minutes of this film are truly captivating, I was so engrossed by the intensity that it had ended before I knew it. It's rare that a film set in such a confined environment can be so gripping. One problem I had with the film was the rate at which Agnes is indoctrinated by Peter; it's slightly implausible considering that she seems to be a rational, measured woman. The performances are excellent. William Friedkin's trademark ease- inducing presence shows in the lead actors' total unhinged lunacy in the final act; it takes a special working environment to unwind so completely. It's likely to polarise audiences, but I found it a powerful, taut film that compels and disgusts you.
Jack Hawkins
Super Reviewer
½
A ballsy, ambitious little horror film that has potential but never reaches it, concerning a lonely bartender (Ashley Judd) who takes in a troubled drifter (Michael Shannon), unbeknownst to her that his problems are much more severe than she first perceives. It is no surprise that this film was originally performed on stage, as most of the events take place in a dainty motel that gives the story a claustrophobic feel. Sadly, given all the great camera work and chilling atmosphere, the plot just does not ring true at all. If this movie was going for satire or really, really dark comedy, which it hints it is given the utter ridiculousness of the finale, it fails miserably. The acting is over-the-top, but I suspect legendary director William Friedkin wanted this to be the case. For whatever reason, I could not get into it, although I will admit it had me interested as to where it all was going, the acting and some of the scenes just did not ring true, especially the change in character Ashley Judd goes through, I just did not buy it for a second. Disappointing given Friedkin's reputation, and although he gets aspects of it right, the plot just never hooks as hard as it should into the viewer, at least for me.
Dan Schultz
Super Reviewer
Bug Quotes
There are no approved quotes yet for this movie.